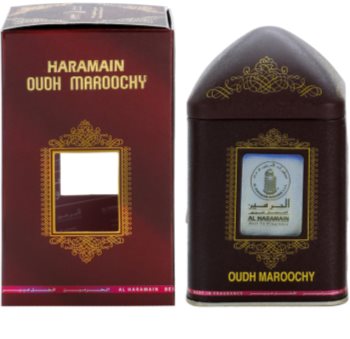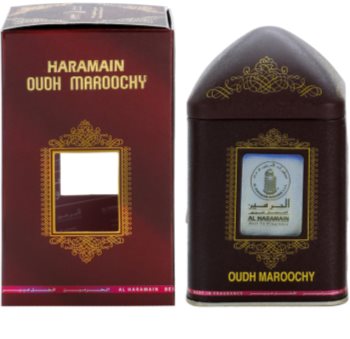 This item is currently unavailable
|
Code:

AHR0132
Al Haramain Oudh Maroochy incense will immerse you completely in its unique scent with a touch of the Orient. It is a fragrant resin from the frankincense tree. It can be used in many ways – as a room fragrance or to clean spaces, objects and people. According to various superstitions, it is even possible to cleanse the soul with the help of incense. Why not scent your home or workspace in this unique way, and relax mind the way it needs?
Characteristics:
a woody fragrance
a sweet aroma
How to use:
To burn incense, you will need an incense burner, tongs, quick-light charcoal and matches or a lighter. You can also use clean, dry sand, but it is needed for burning. If you use sand, pour it into the incense burner as a layer 1 cm thick. Pick up the charcoal with your tongs and light it. Heat it for about 20 seconds until the charcoal stops sparking, then place it in the incense burner. After about 1 minute, you can start to sprinkle the incense on the charcoal. Start with a small amount and gradually increase the amount to your liking. Keep out of the reach of children and pets. Never leave incense with burning charcoal unattended. Always use incense specifically for burning. Extinguish with water.
Ingredients
| | |
| --- | --- |
| Character of home fragrance | woody, floral, sweet |
Al Haramain was founded in 1970 in the holiest city of Islam – Mecca, Saudi Arabia. It later moved to Dubai. The family company supplies natural essential oils (attars), perfumes for the home and classic perfumes, and other interesting goods. Its manufacturing space occupies an unbelievable 16,000 square metres and it has over 65 showrooms worldwide.
Al Haramain likes to combine traditional Arabic and modern fragrances. It gained great fame in particular with products whose main ingredient is precious agar wood. Its various floral and spicy compositions are also worth looking at. There is something for everyone, regardless of age or gender, in Al Haramain's extensive range.
In its own words, Al Haramain strives for perfection. That is why great emphasis is placed on the design of the packaging. The elaborate detail of the bottles, in the form of sumptuous Oriental sugar bowls, teapots, etc. is clearly the most successful you can see.
Al Haramain perfumes are exotic, romantic, sensual, and provocative. Leading experts in their fields contributed to their development, thanks to which they can boast not only of being top-quality but also long-lasting. Try them – you won't be disappointed.
Al Haramain is sure to appeal to anyone who makes their choice on aesthetic grounds, is able to pay a little more for luxury, or has fallen under the spell of the Middle East.