Colour of the year 2018: Ultra violet

Mystical, visionary, original and dramatically provocative. After last year's lush greenery, the vivid ultra violet has been selected as the colour of the year. This purple shade is everywhere this year in fashion trends: from interior design to clothing, mystical violet makeup, nail polishes and perfume.
The new Pantone colour of the year is a clear sign that this year will definitely not be boring in the world of beauty. Purple is a colour of big changes, and makes any look special. Whether you opt for violet lipstick, shoes or earrings, you'll be sure to capture attention. What's the right way to wear ultra violet?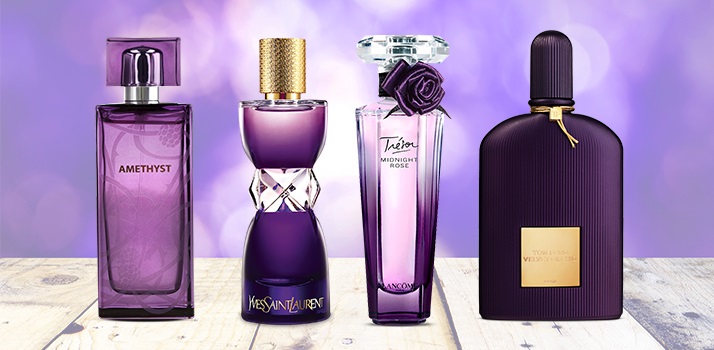 The colour of the year and fashion
Last year's colour of the year really wasn't for everybody, but anyone can wear ultra violet. Women with fair skin don't need to fear purple dresses, jackets or jumpers. If it seems too daring to you, and your motto is "less is more", try a violet handbag, shoes, scarf or hat. An excellent accessory can be made of purple glasses or earrings, which give you the perfect amount of pizzazz.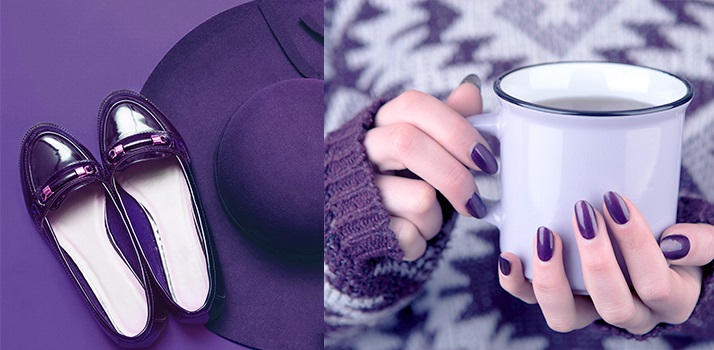 The magic of ultra violet also depends on the right combination with other colours. It looks great with grey, making it highly sophisticated. Purple creates a luxury impression with metallic shades. In combination with green, it gives your look depth and an ethereal quality. If you want to make a bold impression and be a little provocative, add a little yellow to contrast with the violet. That way you won't be overlooked.
Ultra violet and makeup
Purple is perfect for expressive, alluring makeup. Violet eyeshadow looks particularly great on green eyes but suits other colours too. Just be sure to blend it carefully with more neutral shades and you're sure to look incredible. Try it combined with brown, which you can do with the Makeup Revolution Pro HD Dynamic palette.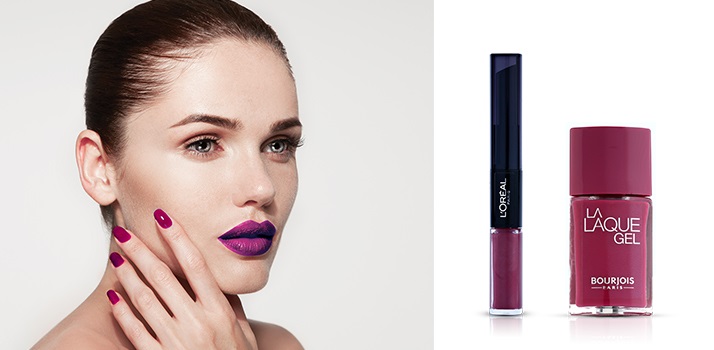 Is purple eyeshadow too much for you?How about replacing your classic black eyeliner with violet to see what happens? Stylists have also been working with purple mascara this year. You don't have to apply it to the entire length of your lashes – just put a little on the tips for a great effect!
Or why not try purple lipstick or lip gloss? They'll be a hit, especially in the autumn months. The L'Oréal Paris Infallible gloss lipstick in Violet Parfait looks beautiful. Unlike purple eye makeup, violet lips really suit dark skin as well. And let's not forget our hands! Purple nail polish looks great on any occasion.
Violet perfume
In 2018, deep purple perfume is going to rule the roost. You'll be on trend wearing perfume with strong notes of purple flowers. Violet, iris, sage and lavender will be on the rise this year. How about Bvlgari Omnia Amethyste perfume with elegant iris and its sophisticated amethyst-coloured bottle?
The fragrant essence number one for this year is jasmine, a favourite ingredient in sensual oriental perfumes. These perfumes, often packaged in unforgettable purple bottles, will be popular this year.
Our tip: If you want to really make the most of the colour of the year, try adding purple tones to your hair: try the L'Oréal Paris Colorista Spray in Lavender. We think purple looks great in hair. What do you think of the 2018 colour of the year?