Hair Loss
Hair loss is not a phenomenon you should worry about. Learn to recognise the cause of your misery and select the best way of retaining rich, beautiful hair. But first, let's take a closer look at the causes of this complex problem.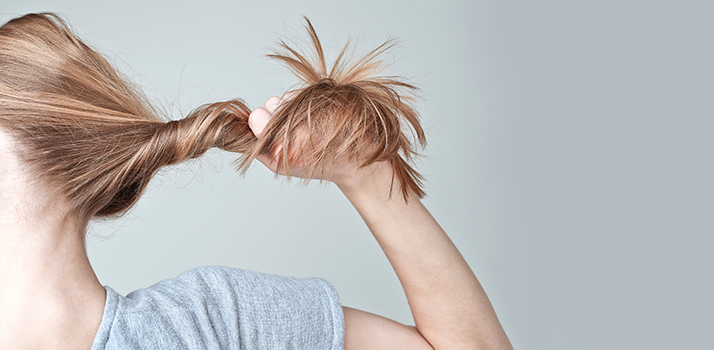 The most common causes of hair loss:
Hormonal imbalance (including hair loss after giving birth)
Genetic predispositions
Seasonal changes
Stress
Unbalanced diet
Giving birth and hair loss
The hormonal imbalance in women during pregnancy, after giving birth or after the transitional phase, when oestrogen levels fall significantly, is a very common cause of hair loss. It may also come as a surprise in the case of significant weight fluctuations. There's no need to be afraid – it's loss of hair that was in the prolonged growth phase. This phenomenon is absolutely natural and, fortunately, only temporary.
Stress, seasonal changes, unbalanced diet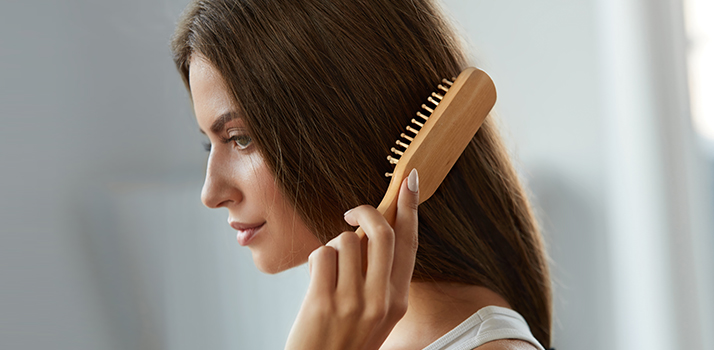 If your hair falls out, it is due to insufficient anchoring of the hair follicle in the damaged scalp. The causes of this problem may vary. Unfortunately, it is most often down to stress, which is unavoidable in today's world. That is why you need to learn to live in a way that doesn't damage your body or soul. The most effective way of combating stress is the right combination of relaxation, movement and quality food. Additionally, unhealthy nutrition itself can cause hair loss. Your hair, like the rest of your body, appreciates a diet rich in protein. Another way to support good scalp condition is with added zinc, vitamin B and silicon. Seasonal hair loss is common in spring and autumn and usually lasts around six weeks. In this case, bear in mind that the density of your hair is gradually restored.
Take care of your hair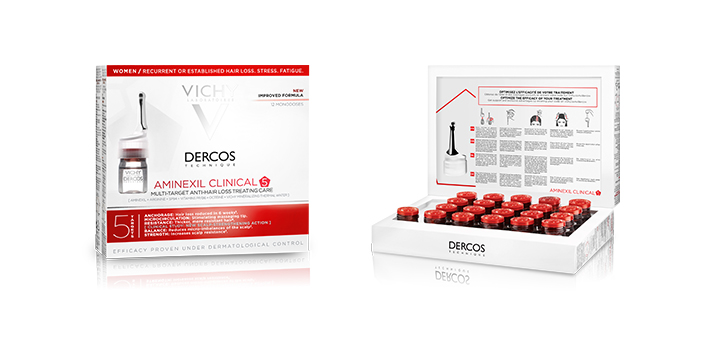 The first point in the prevention of hair loss is scalp care. Hair falls out when it is poorly 'anchored' in the scalp. The basis of hair loss prevention is an intensive hair treatment with a high level of active ingredients, usually used every three weeks. We recommend Vichy Dercos Aminexil Clinical 5, a hair loss treatment which both strengthens the anchoring of the hair root in the scalp and is gentle on sensitive skin. It is available in two versions, for men and women.
Since weak hair needs care, we always recommend using a complete, integrated product range to look after your hair from the roots and make it strong. That means a shampoo, conditioner or hair mask to protect your hair from everyday stress. It is best to use products that are free of silicones and sulphates, which put unnecessary strain on your scalp. Why not try Vichy Dercos Energising strengthening shampoo, which maintains the smoothness and elasticity of the tissue around your hair roots?
Other shampoos suitable for daily use include Ducray Anaphase, Klorane Quinine with cinchona extract, or La Roche-Posay Kerium, which nourishes hair follicles while suppressing micro-inflammation.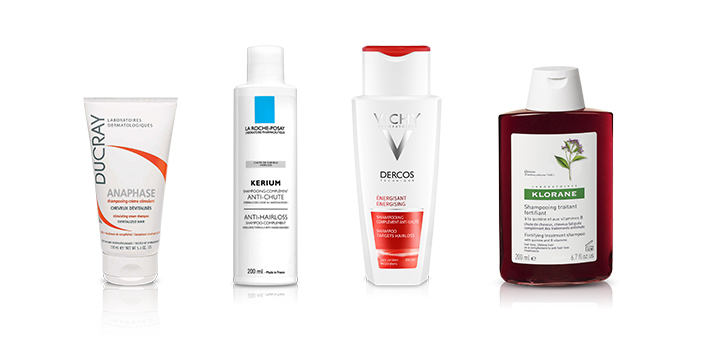 Treat your hair considerately. Be careful when it comes to using very hot hair dryers, dyeing, straightening and tying it in tight ponytails. These things don't have a direct impact on hair loss, but they do result in it breaking and becoming brittle. One way to promote growth is by massaging the scalp.
Don't miss out on this pleasant procedure and make sure you have it done by your hair stylist and do it at home in your own bathroom. Your hair will appreciate this and you'll be proud of your radiant mane!