How to smell great for the party season
With the winter season comes a multitude of indoor events, celebrations and parties. So it's time to dust off your party dresses and swap your light fragrances for ones that are more mysterious and seductive. We believe that careful preparation can help you avoid the "nothing to wear" panic and let you enjoy the festive season to the full. You'll easily find your favourite perfume, full of character and ideal for a festive atmosphere and black tie dress code.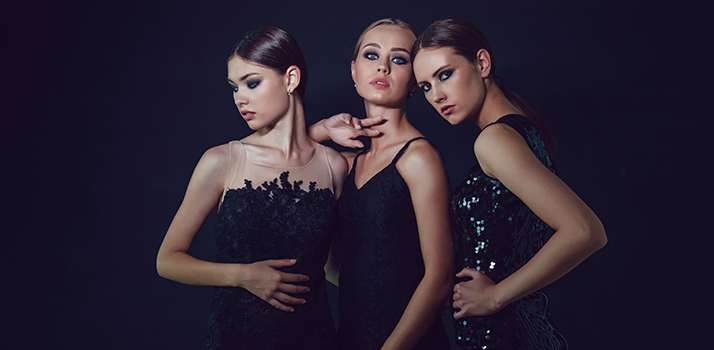 The top fragrance for your little black dress
The little black dress has been a firm favourite since the times of Coco Chanel. It is an indispensable wardrobe essential and an integral part of every stylish woman's social life. Whether you opt for a minimalist, elegant style or you have an elaborate lace affair hanging up, a beautiful, engaging scent will help perfect your look. We have come up with seven tips for evening perfumes to make you feel like a queen.
Tip 1: Don't be afraid to be decadent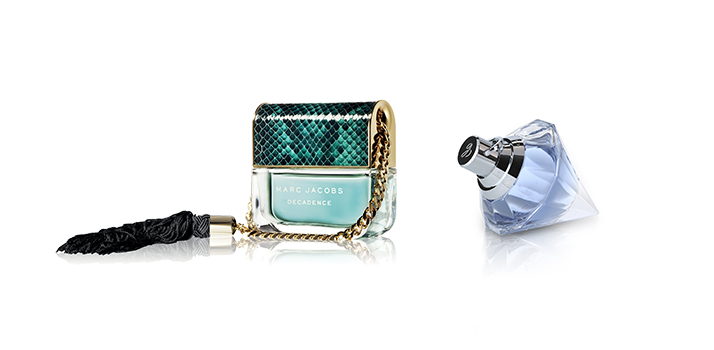 Let's lose ourselves for a moment over the stylish bottle for the latest ladies' fragrance by Marc Jacobs, Decadence. This collector's item shaped like a handbag with a gold chain is already reason enough to want this Eau de Parfum, but it is certainly not the only one. The beautiful and long-lasting composition of the fragrance will envelop you all night long. It is sweet and exotic, with an amber base, a heart of Bulgarian rose, and a pinch of plum and saffron. Ideal for the temptress.
Tip 2: Make your wishes come true
For the woman who loves unusual experiences, Chopard Wish is the perfect choice. An evening of wishes coming true awaits the wearer of this magical fragrance composition with acacia, violet and pink honeysuckle. A simplicity which will delight and captivate everyone around you as you dance the night away.
Tip 3: Dress yourself in diamonds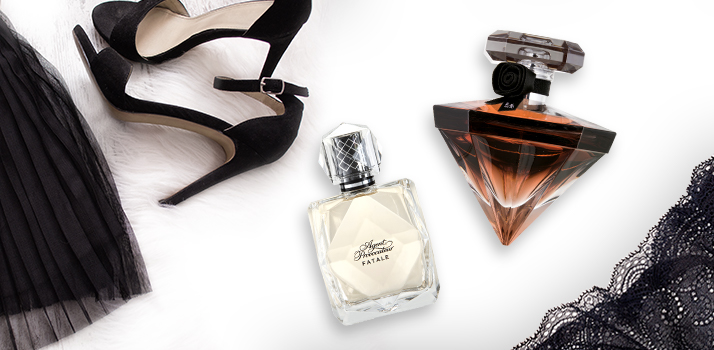 Marilyn Monroe herself sang that diamonds are a girl's best friend. La Nuit Tresor, a fragrance by Lancôme inspired by the black diamond, will envelop you in a sensual, sparklingly spiced haze. The luxury polished bottle contains a base of enchanting papyrus, incense, vanilla and patchouli. This will open up to you once you have experienced the sweeter bergamot and pear with a heart of rose, orchid and exotic fruit. This is the perfect evening fragrance for the mature, confident woman.
Tip 4: Bet on a sensual elixir
Yves Saint Laurent introduces a unique essential cocktail full of carefully selected ingredients. It's called Manifesto L'Elixir and is truly dazzling. It contains cashmere wood, vanilla and healing ambroxan, enriched with tuberose, heliotrope, jasmine and bergamot. The perfume has been popular for several years in cold winter weather and has been the cause of hundreds of turned heads and fixed looks. If you opt for Manifesto L'Elixir, be prepared to receive attention.
Tip 5: Refined provocation
Refined women are sure to appreciate Agent Provocateur Fatale, from the home of luxury London lingerie. A sensual, seductive and confident eau de parfum, Fatale, like the lingerie you select to go beneath your little black dress, will be something only you know about. The fragrance is dominated by exotic cacao, gardenia and mango with chocolate, patchouli and pink pepper. Best suited to the provocative woman, a femme fatale.
Tip 6: Be scandalously irresistible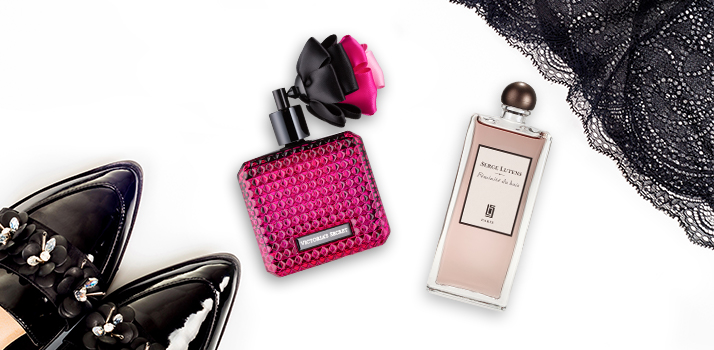 Forget the Victoria's Secret angels. Scandalous Dare is the latest addition to this sensual perfume family and won't make you feel like an angel at all! You're more likely to feel like a devilishly attractive queen. The beautiful bottle decorated with flowers conceals a simple yet impressive aroma of plum, tuberose and pink jasmine. Suited to all playful and extrovert women.
Tip 7: Less is sometimes more
Serge Lutens, the French niche perfume brand, has created a majestic queen for evenings, with woody, fruity and spicy fragrances. A unisex eau de parfum, Féminité du Bois has a minimalist bottle that encloses a rich cocktail of quality, intricately composed fragrant ingredients. The result is a smooth, mild yet compelling scent with uncompromising staying power. The composition of Féminité du Bois includes cloves, ylang-ylang, rose, violet, cedar and benzoin.
Its elegant purity will be your personal signature. Be yourself wherever you go. And don't forget to enjoy every minute!