How to take care of your skin after 40?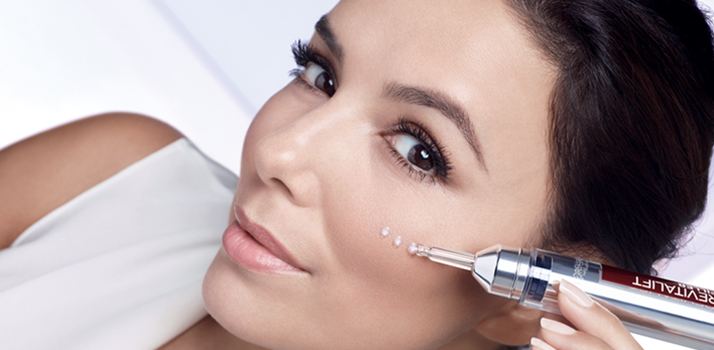 As the years advance, the skin gradually loses its elasticity and regenerative ability and wrinkles are becoming more and more noticeable. If you want to keep your youthful look as long as possible, you'll need to establish a proper daily skin-care routine.
After the age of 40, the skin may look different depending on factors like genetics, lifestyle, and your skin-care routine. You will probably notice some dryness which makes the wrinkles and fine lines around the eyes or on the neck look more prominent. These areas are precisely the ones that suffer from loss of lipids which keep skin hydrated and plump.
This is the best time to add specialised skin care to your regular cleansing and moisturising routine. Find the right serum which contains higher concentration of active ingredients than a moisturiser, apply it to clean skin mornings and evenings and boost its effect with a thin layer of your favourite day or night cream.
The L'ORÉAL PARIS REVITALIFT comprehensive skin-care system for people after the age of 40 was developed based on medical research, which is why it's so effective at restoring firmness of the skin and reducing the visibility of wrinkles. The core Revitalift line includes a daily moisturiser, a night treatment, and an eye cream as well as a special treatment for face and neck. These products effectively combat wrinkles and firm the skin thanks to the anti-ageing active ingredients Pro-Retinol and Fibrelastyl.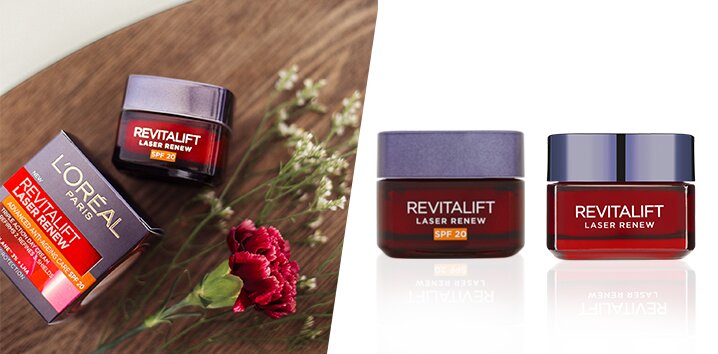 The Revitalift Laser X3 line was specially designed to help with wrinkle reduction, skin re-plumping, and contour definition. It contains active ingredients such as Pro-Xylane which stimulates skin's natural processes, fragmented hyaluronic acid for restoring fullness, and LHA – an ingredient which prevents flakiness and enhances the effects of Pro-Xylane. The Revitalift Laser X3 line includes a serum and a daily moisturiser with SPF 20 to protect the skin from the sun in every weather.
The Revitalift Filler line boasts a high concentration of hyaluronic acid which softens and hydrates the skin deeply while also stimulating faster collagen production in the cells. This line is perfect for anyone who wants to give their skin back its youthful appearance and elasticity.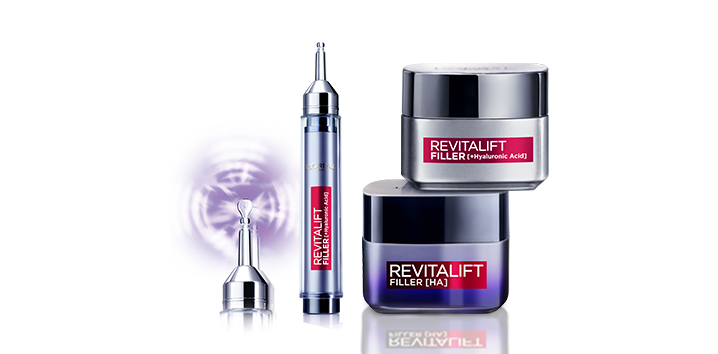 The new Revitalift Cica regeneration line is enriched with extracts from the Centella Asiatica plant which has been used for centuries in traditional Chinese medicine for its healing and anti-inflammatory properties. e their skin back its youthful appearance and elasticity.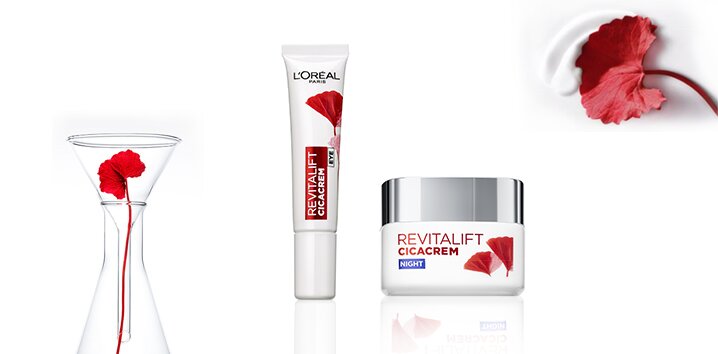 Discover the best products for your skin with this expert range from L'Oréal Paris!