PUT A STOP TO YOUR ACNE MISERY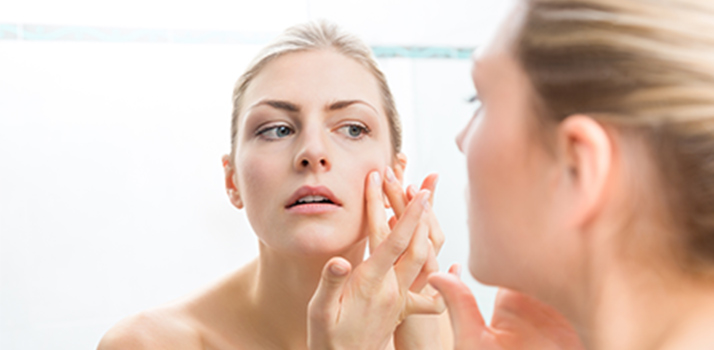 Unsightly blackheads and red pimples don't just affect teens, they also make life miserable for adults. If you're afraid you've lost the battle with acne, don't despair! We can show you the way to get beautiful, healthy skin.
Clean, clean and clean again!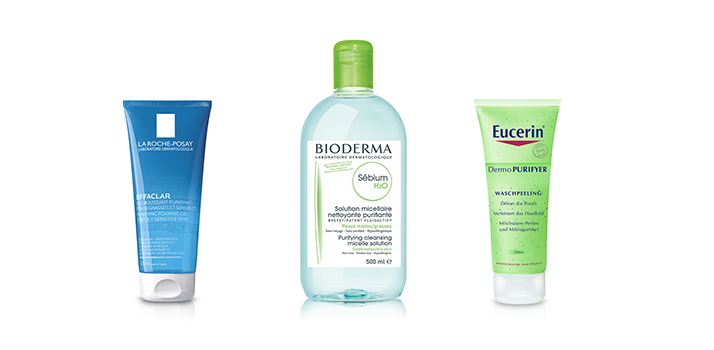 You're sure to hear it all the time, but trust us, this is advice that deserves repeating. You should remove dust and impurities that have stuck to your skin every morning and evening. Micellar water such as Bioderma Sébium H2O or a face toner are ideal for morning cleansing. In the evening, you should clean your skin more thoroughly. Try, for example, Effaclar by La Roche-Posay, a gel cleanser recommended by dermatologists, or A-Derma Phys-AC gel, whose concentrated and purely natural ingredients penetrate the pores and clean them thoroughly. Once a week, treat your skin to a deep cleansing using a scrub and apply a face mask to skin with the dead cells removed. This will take care of cleaning and nourishing the deepest layers of your skin. It may seem that the scrub barely heats your face, but since you're letting it buff your skin mechanically, it is a good idea to choose your scrub from a special range for problem skin, such as Bioderma Sébium or Eucerin DermoPurifyer. When selecting a face mask, focus on specific skin problems. If you need to reduce sebum production and prevent inflammation, a cleansing clay mask from Vichy Mineral Masks may help you, cleansing the skin deep down and leaving it silky soft, bright, fresh and smooth.
When the misery is endless...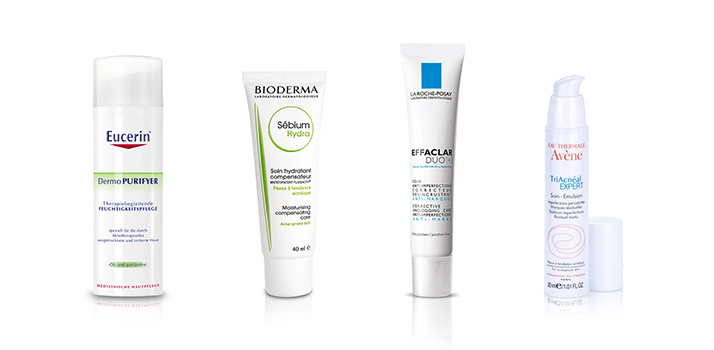 If your acne is intense and resistant, your stressed skin needs a good dose of active ingredients as part of your daily routine that will also reduce irritation, lower sebum production and shrink and unclog pores. We recommend corrective and restorative care for skin imperfections, such as La Roche-Posay Effaclar Duo [+], which unclogs blocked pores and prevents acne scarring. The TriAcnéal EXPERT emulsion by Avene is good for reducing redness and eliminating acne. A day cream for problem skin such as Vichy Normaderm Anti Ageis good for skin with signs of ageing. If you feel that you have a pimple forming during the day, attack it with a topical gel that can even be applied over makeup. Ducray Keracnyl emergency treatment addresses the unpleasant symptoms of acne instantly.
Moisturising oily skin? Yes!
It may surprise you that even oily and problem skin can suffer from dryness, especially as a result of the use of products aimed at fighting acne. Eucerin Dermo Purifyer will hydrate your skin, and yet it also has anti-inflammatory effects, is antibacterial and reduces excessive sebum production. Effaclar H hydrates oily skin weakened by drying skincare products. It also adds lipids that are lacking from your skin, restores the protective hydrolipid film and strengthens the skin barrier. Bioderma Sébium Hydra cream will surprise you with its pleasant consistency. It is non-comedogenic, while easing redness and skin irritation. If you suffer from enlarged pores, Avène Cleanance Mat is a mattifying emulsion that will save you, or try the Serozinc soothing spray by La Roche-Posay for sensitive and irritated skin, with its mattifying effect.
Effective coverage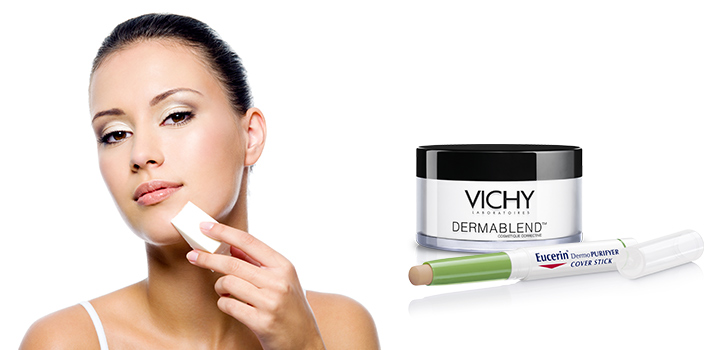 Of course, we also want to mask any imperfections on our faces. If we go with the true professionals, they can both cover your acne and support its removal. Choose a light foundation that lets your skin breathe. Vichy Dermablend 3D for acne-prone skin covers all your imperfections but doesn't block your pores. La Roche-Posay Toleriane Teint prevents excess sebum production effectively while covering imperfections, and has a pleasant foamy consistency. Try Eucerin Dermo Purifyer, which contains anti-bacterial ingredients. To set your makeup, use Vichy Dermablend powder, which evens out your skin shade for up to 16 hours.