SUMMER BLACK FRIDAY: What Should You Buy in the Biggest Sales Event of the Summer?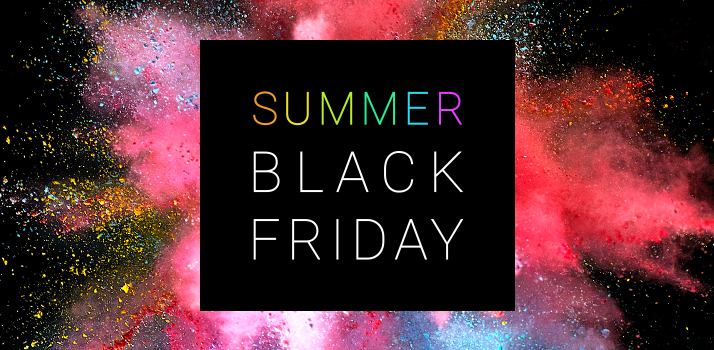 When we hear about Black Friday, we all picture massive discounts and frantic Christmas gift-shopping. Wouldn't it be nice if we could also focus on ourselves while getting presents for others? This is why we decided to give you another chance to shop the biggest sales of the year in our Summer Black Friday. What does that mean? We offer a 20% discount on the best brands! Simply use code notino in your shopping basket – and if you find yourself a bit overwhelmed by all the deals to choose from, check out our favourites that will help you enjoy your summer to the maximum.
Summer Full of Fragrance with 20% off
Looking for your ideal summer fragrance? You'll definitely find it in our Summer Black Friday selection! You can choose from numerous brands at fantastic prices – or simply have a look at our top two perfume picks. If you're a fan of delicate floral fragrances but you've never tried Gucci Bloom, you absolutely need to fix that. Hurry up and try this iconic combination of jasmine, honeysuckle and iris as soon as possible. And if you associate summer with fruit rather than flowers, you'll simply love La Vie Est Belle Intensément. This latest addition to the La Vie Est Belle line boasts raspberry and pink pepper essences to make you smile right from the very first sniff.
Sun Protection Is a Must
If you only buy one product during our Summer Black Friday, make it something that will provide you sun protection. Remember – sunscreen is not just for your vacation, you need to protect your skin every time it is exposed to the sun. Biotherm Waterlover Sun Mist will be your trusted companion you can throw in your bag and take with you to reapply at any time during the day, even over makeup. This product is suitable for all skin types, plus it's waterproof and sweat-resistant.
Skincare Mission: Hydrate and Protect
Proper skin care is essential all year round, but summer does call for extra attention. This is why we're offering a stunning 20% off a wide selection of skincare products! For instance, many of us prefer to swap heavier foundations for a light BB cream which unifies skin tone without being too thick. Is there anything better? And don't forget that your foundation or tinted moisturiser should offer a good amount of sun protection. Avène Hydrance unifying cream is an ideal combination of all your skin needs – it has SPF 30, hydrates your skin and evens out your skin tone. What more could you wish for?
Makeup That Lasts – Now Cheaper Than Ever Before
Most of us know what it's like when you can literally feel your makeup running down your face on a hot day. But did you know it can be prevented with a few simple waterproof products? Waterproof makeup will help you enjoy an afternoon cocktail in the sun, a weekend by the pool or a training session at the gym.
If you're one of those people who won't leave the house without putting on eyeliner, try NYX Professional Makeup Vinyl. This product will help you create a precise line, it dries quickly and lasts all day! If you'd rather draw attention to your lips, the long-lasting NOBEA Festive liquid lipstick provides hydration as well as a bit of flair! Its ultra-light texture is especially perfect in the summer, but you should definitely keep it in your handbag throughout the year.
So – have you decided what will be your Summer Black Friday treats? Let us know in the comments, and don't forget to use code notino in the shopping basket!
Author: Notino