The Best Fragrances for 2017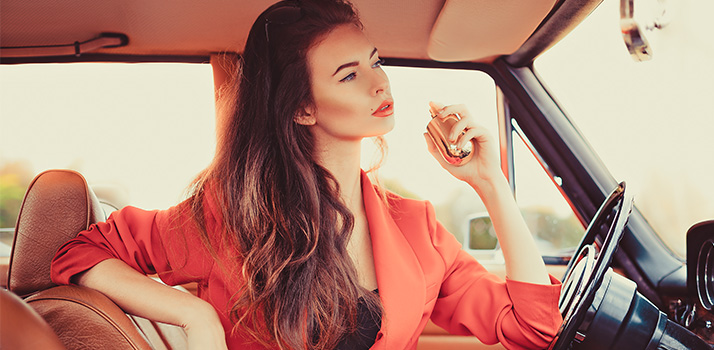 New year calls for a new scent. Do you know what the best fragrances for this year are? The delicate scent of violets, romantic rose and the woody scent of oud are all hot right now. And not only that. Fresh green notes, unisex perfume and personalised fragrances with rare ingredients are going to rule in 2017. 
Refreshing relief
Have you tried the fresh scent of green leaves, aromatic basil, cooling cucumber or the delicately grounding oak moss yet? They will be wonderfully refreshing for you in the spring and summer months. Add some rose—the main ingredient of this year's new products—to the green base, and you'll be definitely on trend. In the cooler months, wrap yourself up in a heavier, warmer perfume with the scent of oud (or agar wood) and delicate, spicy notes.
Unisex without borders
This blurring of boundaries between men's and women's fashion is quickly becoming a new trend, and the increasing popularity of unisex perfumes goes hand in hand with it. Unisex fragrances are amazing for sharing with your partner, because the same scent will smell slightly different on different skin. A large number of unisex fragrances can be found especially among niche perfumes. These are going to be very popular this year as well, with their unique and unconventional ingredients.
A safe bet
Let's also not forget the best-selling fragrances, the ones you can never go wrong with. The best women's perfumes from Chloé or Yves Saint Laurent should certainly earn a spot in your fragrance wardrobe. Floral, woody Chloé fragrances are simply immortal with their emphasis on femininity and sensuality, and the luxury perfumes by the French brand Yves Saint Laurent are no different. Whether it's the daring Opium, the enchanting floral Paris or the vanilla scent of Cinéma, YSL perfumes are timeless bestsellers and some of the best perfumes and aftershaves in the world.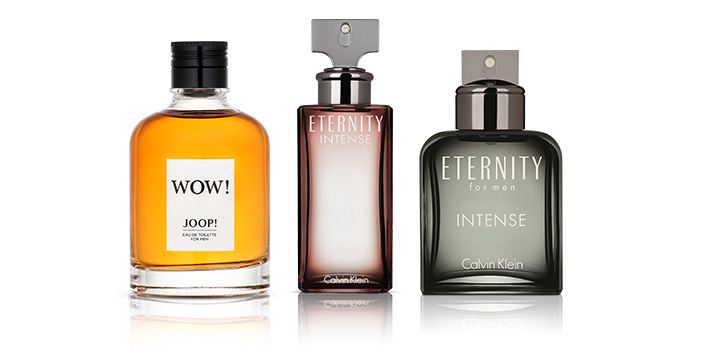 The best perfumes
DKNY Be Desired
Take a stroll through New York's city parks with DKNY Be Desired. Trends for violet and rose in conjunction with the scent of fruit, intoxicating jasmine and cashmere woods will create a perfect scent for the modern woman. DKNY Be Desired will brighten up your day like a summer walk through a blooming garden. Perfect for a day-long wear. 
Marc Jacobs Decadence
Succumb to the decadent temptation of Marc Jacobs Decadence. Its elegant green bottle was inspired by one of the iconic handbags by Marc Jacobs. The juice itself combines sweet plum with Bulgarian rose and a touch of vetiver and ambergris. It is a perfect, sophisticated composition for a woman who knows what she wants. An ideal perfume for winter months or for evening occasions.
Chloé by Chloé
The floral, powdery scent of Chloé Eau de Parfum is one of the best women's perfumes of all time. No wonder, the luxury bottle with its ribbon contains the elegant scent of freesia, peony, rose and magnolia, which will surround you all day long. It is a great choice for women who love style and originality. 
Yves Saint Laurent Black Opium
An adrenaline rush for all those brave women who are not afraid to stand out from the crowd. Yves Saint Laurent Black Opium grabs your attention straight away with its extravagant bottle. In black and shimmering pink, it has a distinctive logo in the centre. The fragrance is warm and spicy. It contains the aroma of pink pepper, coffee and sweet vanilla, making it a perfect fragrance for a night out.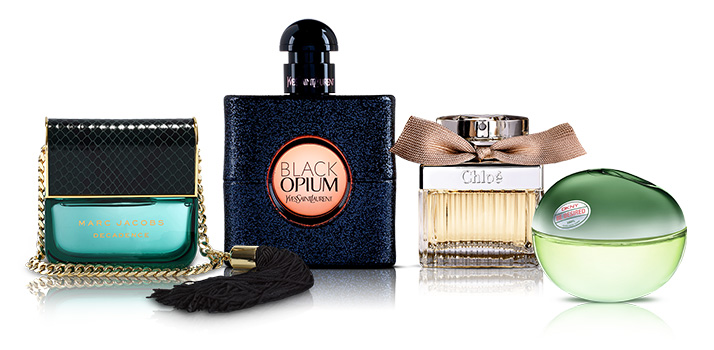 The best aftershaves 
Lacoste Essential
This scent encourages, energises and evokes a feeling of lightness. Lacoste Essential aftershave is the perfect companion for sport and other leisure activities. It will refresh you with the scent of citrus, tomato leaves and blackcurrant and intoxicate your senses with rose, patchouli and sandalwood. It is perfect for active independent men who enjoy life. 
Versace Pour Homme Oud Noir
The woody and slightly spicy Versace Pour Homme Oud Noir is a fragrance for sophisticated, elegant men. As the name suggests, the dominant feature of this scent is the rare agar wood—oud, which lends it an oriental touch. In combination with leather and spice, oud creates a strong and intoxicating fragrance that is almost an aphrodisiac. 
Calvin Klein Eternity for Men
Calvin Klein Eternity for Men is one of the best-selling aftershaves ever. Although it has been on the market since 1989, it has maintained its reputation and its fame and popularity is simply eternal. It contains a fresh scent of green plants, aromatic basil, calming lavender and romantic jasmine. Its base notes are of sandalwood and rosewood. It is a masculine and sexy fragrance for everyday wear. 
Davidoff Cool Water Man
Like Eternity, Davidoff Cool Water Man is another one of the most popular aftershaves. While soothing oak moss, lavender and jasmine relax the body, mint, green notes and sea water act as a refreshing waterfall. Enjoy this beautiful, cool fragrance of pure nature.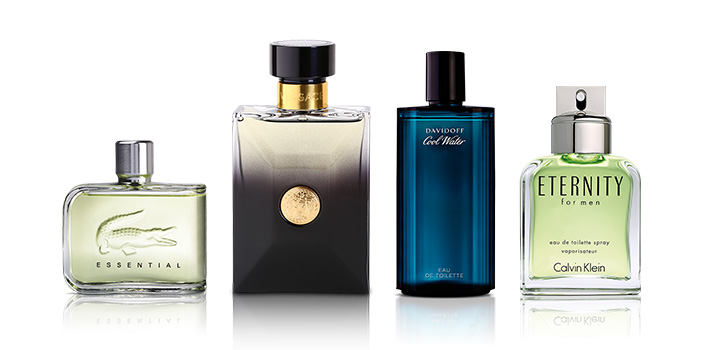 The best unisex perfumes 
Comme des Garçons Amazingreen
The beautiful, fashionable green fragrance by the niche brand Comme des Garçons combines organic and mineral aspects that will amaze you with a flurry of lush green energy. Palm leaves, green pepper, ivy and an explosive whiff of gunpowder in a perfect composition that attracts both men and women with a sense of originality and individuality. Amazingreen is an imaginative perfume suitable for everyday wear. 
Creed Acqua Originale Asian Green Tea
The unisex Creed Acqua Originale Asian Green Tea is an ode to the intense green beauty of nature. It has a beautiful citrus scent with an original note of green tea and fashionable violet. Let yourself get carried away by this fragrance to the Malaysian countryside and enjoy its unique atmosphere. The beautiful packaging with gold elements will captivate you. Ideal as a luxurious gift for men and women.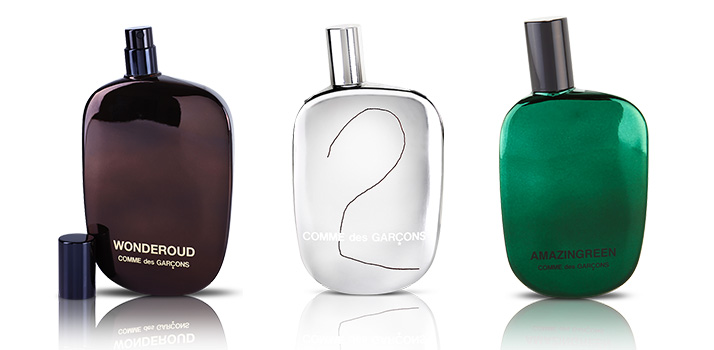 New fragrances for 2017
What new products are we going to see appearing on the market this year? Miu Miu presents a beautiful green fragrance with a floral heart, L'Eau Bleue, which will captivate you with the intoxicating scent of lily of the valley.  The unconventional Thierry Mugler is bringing you an exclusive citrus fragrance, Hot Cologne, for men and women. You can also look forward to Michael Kors Turquoise, with dominant tones of water lily, cucumber and lime.
Escentric Molecules are adding Escentric 04 to their niche perfume range, and thus bringing you a unique composition of sandalwood, rose, juniper and fresh grapefruit.
The French brand L'Occitane has prepared something for true gourmets this year. The sweet Terre de Lumière mainly consists of edible ingredients: almonds and lavender honey with balsamic notes.
What about Amouage? They have created a unique combination of green ferns, earthy tones of wood with fresh fruit and tones of patchouli and musk in their Bracken fragrance. As a perfect finishing touch we should also mention the new fragrance Jimmy Choo L'Eau: a delicious scent of hibiscus, bergamot, nectarine and peony.