The Big Lipstick Test: Which Ones Are Really Kiss-Proof?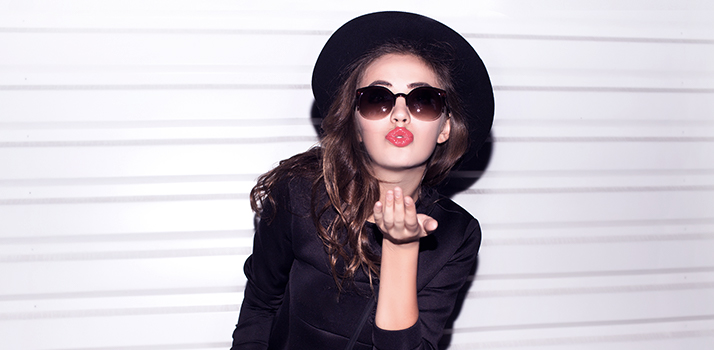 We've all been there at one point or another: You're leaving the house after putting on your favourite bold lipstick and you're ready to tackle the world. Before stepping out the door, you turn around to give your partner a quick kiss, leaving them with a bright lipstick mark across their mouth and in need of a tissue. Even at work, you keep checking in the mirror and making sure your lipstick is still in place. During an important presentation, you're secretly worried that your colleagues are distracted by watching your lipstick migrate to your teeth.
Later in the day, a romantic dinner with your partner is ruined when you only select foods that won't take off your lip colour, and if you're going to a party, your wine glass will be one of many with bright red stains on them. All these awkward moments in one day could be prevented by picking the correct lip product—but since that's easier said than done, we've tested dozens of kiss-proof products for you and selected the ones that won't stain or leave marks on the skin, they'll just help you look fantastic all day!

Kryolan Basic Lips
The German brand Kryolan is a little unusual because of its long history as the go-to brand for stage and movie makeup products. Inspired by the Dutch singer Simone Simons who adores Kryolan Basic Lips liquid lipstick in the shade Rock, we've tested this particular product and we can confirm it's really long-lasting. Just make sure to only apply a thin layer and not overdo it, because otherwise your lip colour could start peeling off. This was probably the most high-impact product out of all we've tested and it will be simply perfect for social occasions.
theBalm Meet Matt(e) Hughes
Meet Matt(e) Hughes works in a similar way to Kryolan Basic Lips—you put on a layer of liquid lipstick and it dries to a kiss-proof matte finish. You can then kiss your partner or your kids as much as you want without worrying about the state of your lip colour. You make the rules!
L'Oréal Paris Color Riche La Palette Glam
With the schedule that we've outlined above—going from work to a nice dinner and possibly a party—you will likely want to switch it up a little and wear different shades for different occasions. That being said, carrying several individual products isn't exactly practical. Luckily for you, this L'Oréal lip palette with six amazingly intense shades will easily take you from one morning all the way to the next.
Maybelline SuperStay Matte Ink
Dreaming about the classic, true-red lipstick with matte finish? SuperStay Matte Ink by Maybelline is the perfect choice. Despite the mattifying texture, this product is actually quite hydrating, which means your lips won't end up dry and flakey. This new product will become your best companion at every party!
Artdeco Magic Fix
Maybe you sort of like all of the products we've mentioned above, but you still don't want to give up your favourite lipstick, even though its lasting power is not that great. Don't worry, it doesn't take a miracle to turn it into a kiss-proof product. All you need is the Artdeco lip sealer. Apply it over any of your lipsticks and enjoy your favourite shade for hours upon hours!
And voilà—here's your selection of the best long-lasting lipsticks, whether you prefer liquid or solid products, bold or subtle shades, and glossy or matte finish.