Tips and Tricks on How to Get Big Hair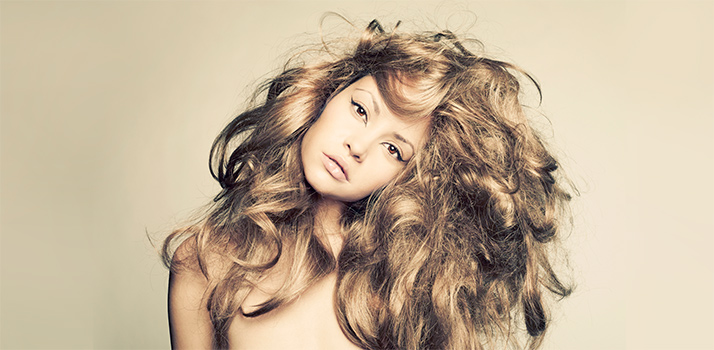 Despite the trend of slick and straightened hair, volume and lift at the roots still seem to be some of the most desirable traits a hairstyle can have. The idea is to make hair smooth, but not flat, to tame it, but not make it look lifeless. Or, alternatively, to simply go for it and wear our hair big, following in the footsteps of fabulous women from Elizabeth Taylor to Beyoncé.
There is without a doubt something unapologetic and fierce about big hair (just like there is something unapologetic and fierce about a woman who foregoes hair entirely). It might not be what's always convenient or expected, it might confuse and even intimidate, but hair that takes up space definitely says "I will not wait politely to speak my mind". It demands attention and respect. And if that's exactly what you want to achieve, read on and find out how to get big hair in a few easy steps.
Great Root Volume Overnight
It's a strange paradox. Your hair needs to be clean to really have great volume, but freshly washed hair often refuses to cooperate when you want to create a neat big hairdo. That's why it's best to approach the whole thing in two phases and use several volumising products over the course of two days, so that you get the root lift that you're after.
First, wash your hair thoroughly and dry it gently with a towel. Take a small amount of a good root booster like the Big Sexy Hair Root Pump Plus and massage it into your roots, taking care not to use too much unless you want to turn your hair into a sticky mess. If you feel like your hair is too fine for a mousse, try a hair volumiser in spray, such as the L'Oréal Professionnel Tecni Art Volume Architect thickening spray. After letting your hair air-dry for a bit, set your dryer on medium temperature and put on the diffuser if you have one. If not, blow-drying your hair upside down and fluffing it up with your fingers will give you extra root boost as well.

After about five to ten minutes, depending on how thick your hair is, put your hair dryer on cool setting to keep your hair volumised and not too dry. Extra tip for hair that's on the oilier side - before going to bed, spray some Batiste dry shampoo on your roots from a distance. The next day you will wake up with beautifully thick hair and no greasiness to speak of.
Step Two - Texturiser
While your hair still has decent volume from the previous day, it probably won't look exactly the way you want it to when you finally step out of your front door. But don't worry, that's exactly the type of situation that a great texturiser can help you with.
Start by brushing your hair. Take care not to overdo it, especially if you know excessive brushing can make your hair frizzy and turn it into straw-like mess. You can use a wide toothed comb like the label.m Detangling Comb, or simply brush through your hair with your fingers. For longer, heavier hair, try the amazing Wet Brush that will detangle your hair with ease and keep it shiny and smooth.
Now your hair is detangled, but probably a little too shapeless and, well, without proper texture. Lucky for you, there are numerous amazing texturising products for all kinds of hair. Our favourites?
For finer hair, we love the Matrix Texture Builder, a spray that you apply to the roots and about halfway down your hair, tousling it up with your fingers. To help the product along, you can also grab the Matrix Height Riser powder, a highly effective root lifter you just sprinkle into your hair and gently massage in.

The shorter your hair is, the more you will benefit from a texturiser or a volumiser with a wax or clay-like basis. To apply
Redken Rough Paste
, you'll need to dampen your hair slightly and scrunch a small amount of product into it, letting it either air dry or speeding up the process with a hair dryer. If you could use some texturising throughout the day, reach for the
Tigi Bed Head wax stick
. And finally, set your hairstyle in place with
Rene Furterer finishing hairspay
or other similar product that will give you enough hold without making your hair too stiff.