TUTORIAL: Easter Makeup—Don't Be Scared of Green!
Aside from being the typical lively shade of spring, green is also the official Pantone colour of 2017. That being said, many people shy away from green makeup. But there's no need to deny yourself a bit of green! If you pair it with a more neutral shade, green can be utterly elegant and gorgeous. Get some inspiration from our tutorial and try creating a fresh spring look that will be perfect for Easter time.
All about that Base
Start by applying makeup primer to clean and moisturised skin. We used Dermacol Satin that will make your complexion smoother and ready for other products. Let the primer set for a moment, and then put on foundation. Apply Bourjois Healthy Mix foundation as evenly as possible using the BrushArt foundation brush. Hide dark circles and imperfections with concealer and finish with a light dusting of setting powder.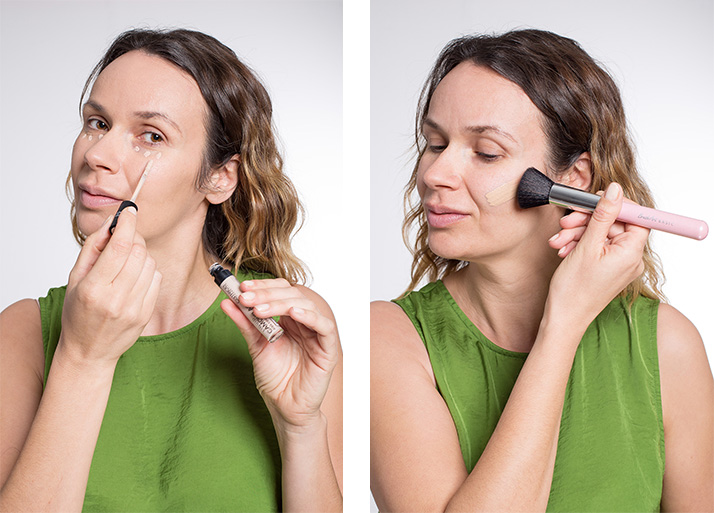 Eye Makeup
Prep your lids with a good eyeshadow base to make your eye makeup last longer. We really love the Artdeco Eye Shadow Base. To keep your green look subtle and tasteful, don't forget to use neutral shades to set it off. In this case we're using brown eye shadow, but taupes and greys will also work great. We especially recommend two eyeshadow palettes: the BHcosmetics 120 Color has several different shades of green, while theBalm Meet Matte(e) Trimony offers strongly pigmented neutrals.
Next, accentuate the crease using the BrushArt Concealer & Eyeshadow brush and the Mat Lopez shade from theBalm palette. Follow it up with a green shadow from the BH palette, applied closer to the inner corner of your eye. Finally, use the Mat Reed shade applied with an eyeshadow brush to give depth to your upper lashline.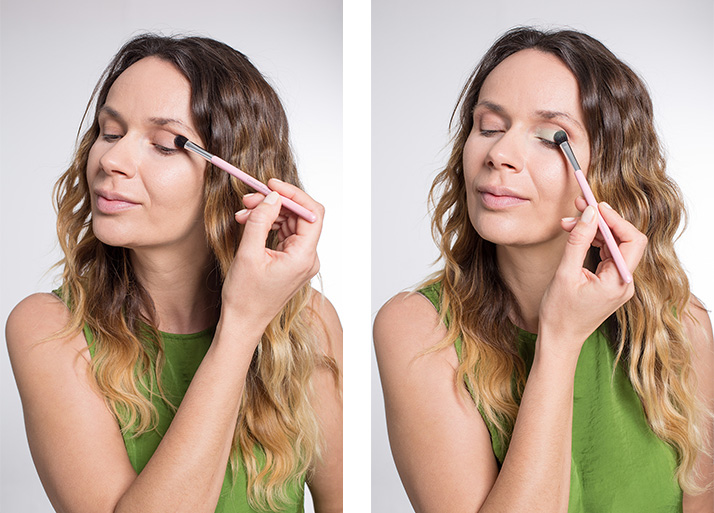 Blend the lines with BrushArt Blending brush to create a flawless look.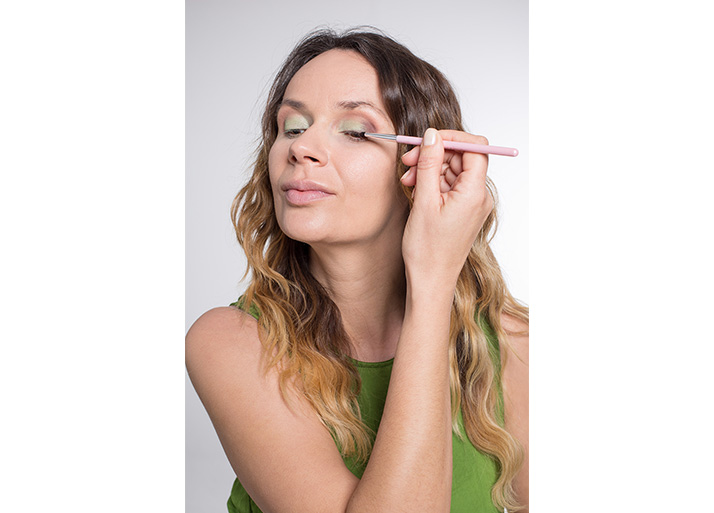 To make your eyes stand out even more, use an eyeliner brush and NYX Professional Makeup Jumbo crayon in dark brown to draw a thin line along your lower lashes. Gently smudge it out with some more green eyeshadow, then use Dermacol Colour Eyeliner above your upper lashes creating a slight flick.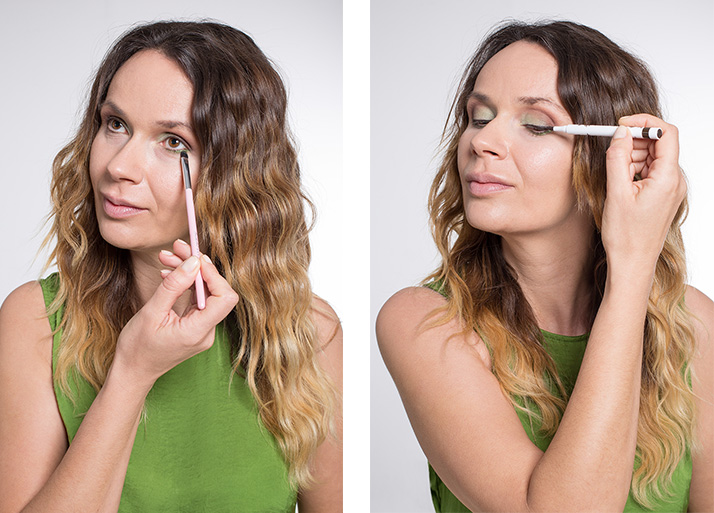 All that's missing now is mascara. Pick one that both lengthens and curls your lashes—we recommend Lancome Virtuose.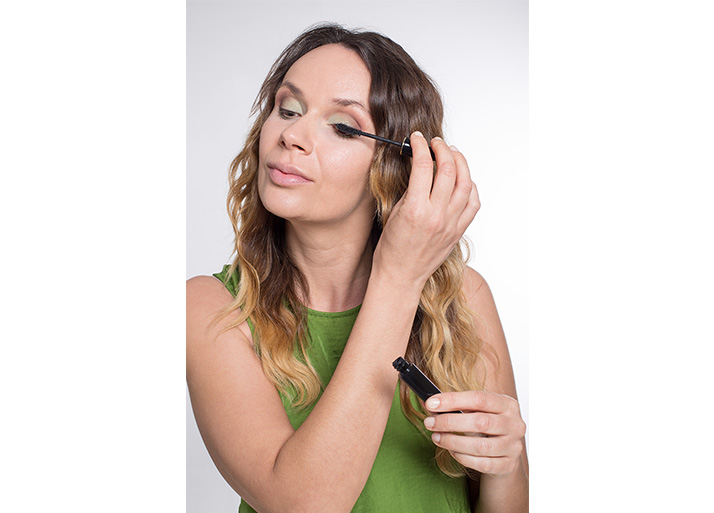 Eyebrows on Fleek
Your eyebrows are one of the defining features of your face, so you should spare them no attention. The Mat Reed shade from theBalm palette will suit your makeup look perfectly. To make your brows look more natural, brush through them with a spoolie.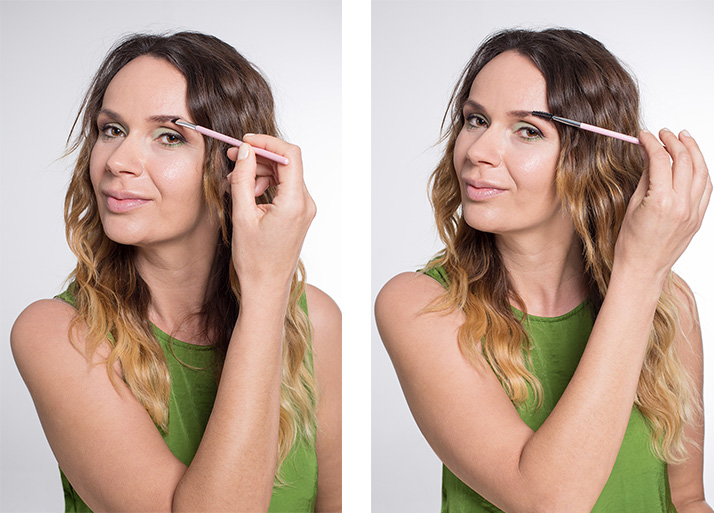 Contour Your Face
Use BrushArt Blush brush to gently apply Institut Esthederm bronzer as your contour. Start at the edge of your cheekbone and remember not to contour too close to your mouth—the centre of your iris should be your guiding point. A few dabs of bronzer on the sides of your forehead will make your face look more narrow.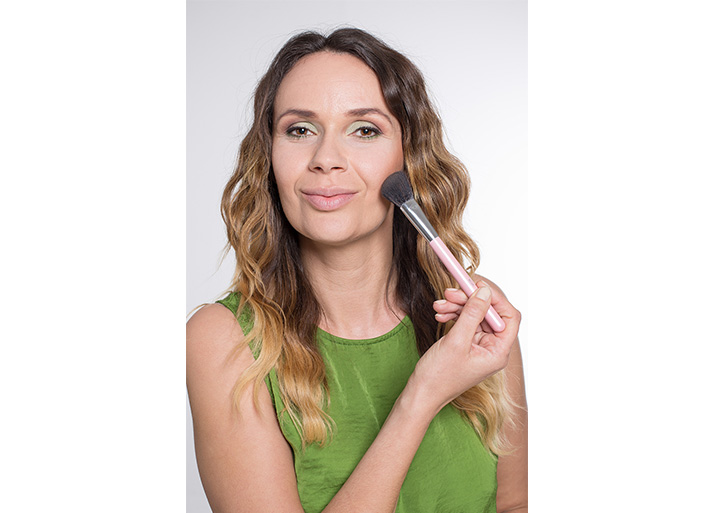 Highlight the top of your cheekbones, your Cupid's bow and the inner corners of your eyes with theBalm Mary-Lou Manizer. BrushArt Fan Brush is perfect for using on your cheeks, while the Smudge brush will work amazing around your tear ducts. To make the whole look last all day, use Artdeco Fixing Powder.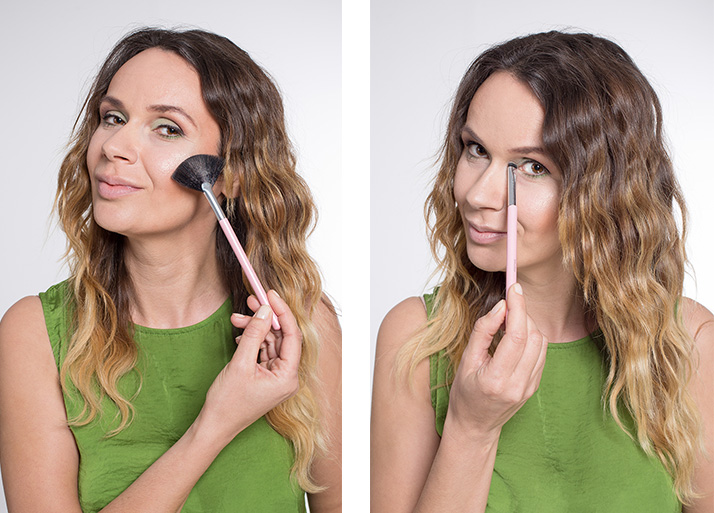 Lip Makeup
Your last step will be lips. Prime them with vaseline and then use Bourjois Rouge Edition Aqua Laque moisturising lipstick in the shade 01 Appechissant. This beautiful juicy colour will be the best counterpart to your fresh green eye look.