What's the Best Eye Skin Care for Tired Eyes?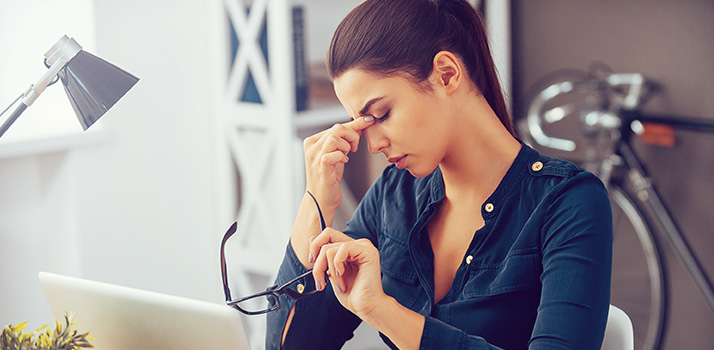 When you're tired, overworked, stressed-out and sleepy, where does it show? What's the part of your body that instantly tells you that you haven't been getting enough rest? That's right—your eyes. One look in the mirror and it's clear that today will be yet another sunglasses-worn-indoors day. You know, besides the fact that you feel like you want to crawl back into bed and get a couple more hours in. Dark circles, puffy eyes, pronounced eye wrinkles, all of that makes you acutely aware of the fact that your body could do with less responsibility and more relaxation.
The best thing you can do, naturally, is to go easy on yourself in general. But we understand that it's not always possible to work fewer hours or to simply forget the problem that has been plaguing your mind for months. In that case, what you can do is to take care of yourself to the best of your current abilities, including a simple skin care routine. If your eyes are tired and you can't very well get much more sleep, use products that will make you feel that little bit better.
SOS Eye Treatment
First of all, this will be the time to pull out the big guns and treat yourself to that expensive and indulgent serum or a mask that you've been saving for your big promotion party / your first book-signing / your wedding day. It is absolutely a state of emergency and you deserve to crack open that tiny pot of cream that cost the equivalent of your weekly food shopping. Or to finally see why so many people love the GlamGlow products and give GlamGlow Brightmud Eye Treatment a try. We swear it's not just a gimmick, these little pods will genuinely help your eyes look brighter and more rested. Looking for something more cost-effective? In that case, go for the Clarins Skin-Smoothing Eye Mask that promises to refresh and tighten the skin around your eyes on a regular basis. 
Find the Best Eye Makeup Remover 
Of course, to really give your eyes the best care you possibly can, you'll need to think of products for a daily use, as well. Even if you wear just a minimal amount of eye makeup, a gentle and reliable eye makeup remover is a must, and an investment that you will definitely benefit from. Our favourite? The Givenchy Secur'Eyes Delicate Eye Make-Up Remover gets rid of all traces of eyeshadow or mascara while not putting your eyes through unnecessary ordeal or irritating them with an overpowering scent. 
Alternatively, try the Garnier Express 2 in 1 Eye Make-Up Remover that's not only much cheaper, but also desgined to make your lashes stronger and more resilient over time. Only take care not to use too much, this product actually can cause some irritation to sensitive eyes, but only if it's used excessively. Simply remember that a little goes a long way. 
The Best Eye Cream is the One You Don't Forget to Use 
And finally, let's end with something that's probably the first thing you think of when you hear about eye skin care: your eye cream. While it's true that many cheaper ones will do the job just fine, the older your skin is, the more attention it probably needs and you can definitely justify spending a little bit more on your daily moisturising eye product. We absolutely love the Clinique All About Eyes Cream, a tried and tested moisturiser that works splendidly well against puffiness or dark circles and provides the soft and delicate skin around your eyes with all the nourishment it needs every morning. It can be successfully used under concealer—all you need to do is give it a little time to absorb and pair it up with a concealing product that has a decent staying power.
To diminish the appearance of fine lines, use a special anti-wrinkle eye cream such as the Avene PhysioLift Treatment. On top of a heavy-duty rejuvenating action, it's also hypoallergenic, it won't clog your pores and it comes in a very practical bottle with a pump that ensures the active ingredients won't lose their power in a couple of weeks.
Does it look like we've skipped a category? Of course, there are also eye gels a light kind of eye product meant primarily to combat swelling that tends to bother us in the morning. For this purpose, try the Avon Anew Vitale Eye Gel Cream that combines both the effect of a moisturiser and a de-puffing eye gel. Need something stronger? Then reach for the Lierac Diopti Fatigue Correcting Gel, an eye gel which helps many people start their day with a fresh outlook on the world.