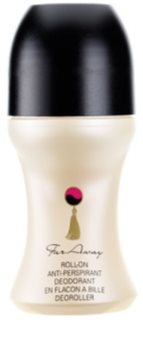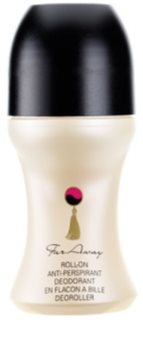 Fragrance description

Avon Far Away
The perfume Far Away by Avon is a fragrance destined for romantic yet self-confident women. This perfume merges engaging oriental and woodsy tones with sweet floral and vanilla scents. This cocktail of ingredients concealed in an elegant bottle will bestow upon its owner the feelings of happiness, well-being and love almost instantly upon application.    

This perfume will change your view of the world, as if by waving a magic wand you can make everything seem prettier and more vibrantly colorful. This fragrance will support your romantic and mysterious soul yet turn you into a sexy and self-confident woman who turns the heads of many men.    

This perfume is characterized not only by its captivating scent accenting your femininity, but also by its staying power. You only need apply it in the morning to your neck or wrist and you may still be stopped in the afternoon by a stranger asking what smells so fine on you.
Ingredients
Coconut, Karo Karoundé, Orange, Peach, Ylang-Ylang

Freesia, Gardenia, Jasmine, Osmanthus, Rose, Violet

Amber, Musk, Sandalwood, Vanilla
Avon products are legendary in the world of beauty. This brand has been focussing on beauty as well as women themselves for more than 125 years and offering Avon skin care, makeup and fragrance.
In 1886, the travelling book salesman David McConnell started adding a little beauty freebie to every book he sold. Soon, his fragrances were more popular than the books, which prompted him to open his own little beauty company. But he never stopped believing in the power of personal touch – and so the idea of the first Avon Lady came to be, offering women a way towards financial independence. The Avon catalogue also became a trademark staple of the company's personal approach.
Today, Avon beauty is available online, but it never stopped selling its products through personal contact. Choose your preferred way of purchase and try this well-trusted brand. Their flagship lines are the Anew products, Advance Techniques hair care, Luxe premium line, Planet Spa body care and the Avon Baby line.
This product has not yet been rated, be the first!