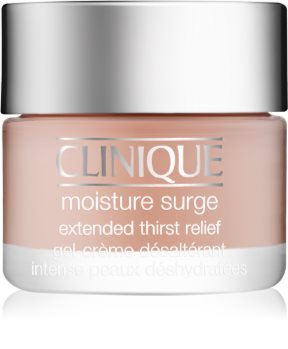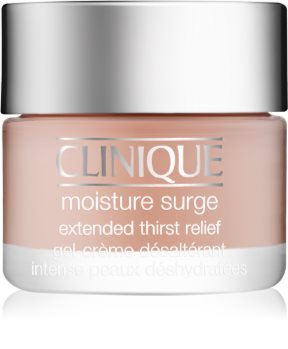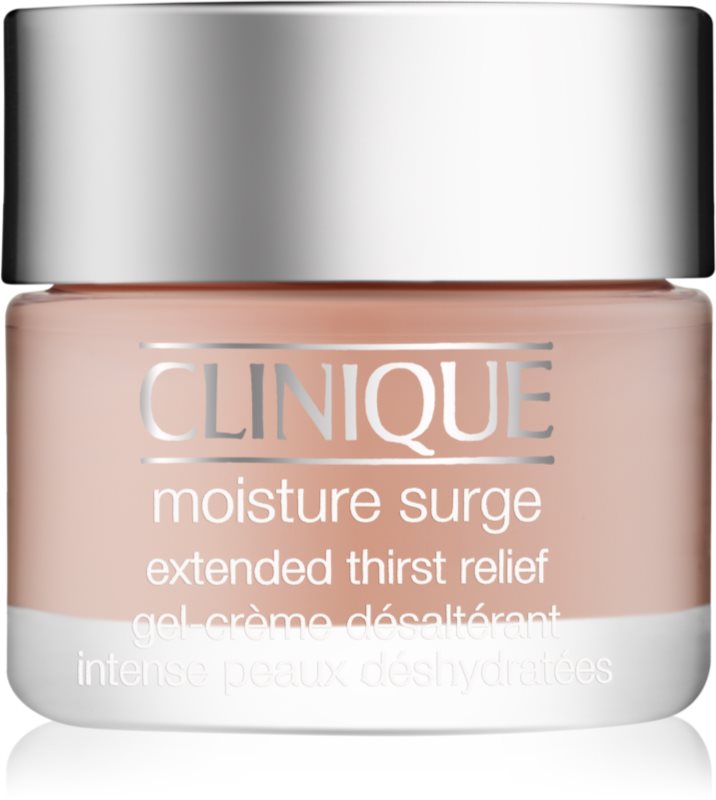 Product description

Clinique Moisture Surge Extended Thirst Relief
Description:
Clinique Moisture Surge is a gel cream that ensures perfect long-term hydration. It locks moisture into the skin, preventing unwanted drying and the subsequent irritation. The cream softens and fills in fine lines in the skin that are a result of dehydration.
Clinique Moisture Surge has a smooth texture which is absorbed into the skin in moments. It leaves the skin pleasantly refreshed, soft and soothed, with no irritation. The cream is hypoallergenic and is suitable for sensitive skin, which requires the gentlest care.
Effects:
moisturises the skin intensely
keeps moisture locked into the skin
smooths fine lines in the skin
refreshes the skin
Ingredients:
glycerine – moisturises the skin and prevents it from drying out
milk thistle – tightens the skin and leaves it smooth
camellia sinensis – promotes skin therapy and alleviates acne
aloe vera – has soothing and healing properties, moisturises the skin
caffeine – stimulates the skin
Skin type:
The cream is suitable for dry skin of all ages.
How to apply the product:
Apply the cream to the skin any time during the day as needed.
It can be used as a moisturising mask – apply the cream to your skin in a thicker layer, leave to act for five minutes, then remove with a wipe or wash off.
For more effective care of dry skin, use the cream in combination with a moisturising emulsion and a night hydration mask from the Clinique Moisture Surge range.

Characteristics
According to skin problems

hydration, sensitive and allergic skin

Complexion type

all skin types including sensitive
About the brand

Clinique
Clinique fragrance | Clinique beauty - Clinique was founded in 1968 by a woman who gave her name to another famous brand, Estée Lauder. Story goes that Lauder was inspired by an interview with dermatologist Norman Orentreich published in Vogue, which gave her the idea of creating a line of hypoallergenic skin care suitable for anyone.
From anti-wrinkle creams to medicated soaps, Clinique products are all fragrance-free, don't contain any known allergens and, before being launched, are subjected to vigorous testing.
Clinique Laboratories also designed a special 3-step skin care system that covers all that is necessary to give your skin what it needs: cleansing, exfoliation and hydration. Exfoliation is especially important if you want to get rid of old skin cells and make your face look fresh and young.
Clinique also carries makeup products like mascaras, concealers, eyeliners, powders, etc., and, last but not least, fragrances. The first Clinique perfume ever created was the Aromatics Elixir, at the time a bit misleadingly advertised as a hypoallergenic concoction, in keeping with the brand's philosophy. To make the packaging fit the idea, Aromatics Elixir's bottle was designed to resemble an apothecary jar.