Collistar

Special Perfect Body Patch-Treatment Reshaping Firming Critical Areas
Reshaping Patches for Problem Areas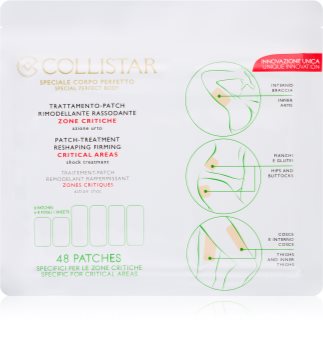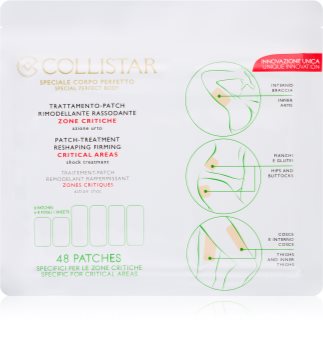 £
43.50
30% more advantageous price
---
Get your body in even better shape. Collistar Special Perfect Body Patch-Treatment Reshaping Firming Critical Areas patches are comfortable to use, last for up to eight hours and are not visible under clothing, so you can wear them during the day without worrying.
After you put them on the skin, the patches gradually release active substances that promote microcirculation and thus have a beneficial effect on the removal of excess fat and water from the tissue. At the same time, they help firm the skin in critical areas, keeping it naturally elastic while protecting it against premature ageing.
Characteristics:
contribute to shaping problem parts of the body
have a positive impact on the reduction of stored fat reserves
help stimulate microcirculation and remove excess water
they adhere to the skin perfectly, making them invisible
leave no trace on the skin
designed for the legs, arms, hips and buttocks
designed by a team of Korean specialists
Ingredients:
caffeine, carnitine – promote the breakdown of stored fat and excess fluids
collagen – helps plump the skin and keeps it firm
ginkgo biloba extract – has toning effects, firms the skin
and fights free radicals
How to use:
Apply only to clean, dry skin. Remove the protective foil and attach a patch to the selected part of the body. Leave on for a maximum of eight hours, then remove carefully. Use twice a week for at least one month.
Notino tip:
The pack contains 32 long patches (ideal for the thighs) and 16 short patches (for the arms, hips or buttocks). On days when you don't use the patches, you can use other Collistar skin firming products to support their effects.
Collistar fragrance | Collistar beauty - Collistar originated as a branch of an Italian pharmaceutical company. However, in 1983 Daniela Sacerdote became the head of the company and steered the brand in a different direction. Today, you can buy Collistar products in more than 2500 boutiques and department stores in Italy, and additionally about 3000 other places all over the world.
The brand's philosophy is quite simple - to offer uncompromising quality for a price that is not excessive. Collistar prides itself on being able to cater even to the pickiest of customers from all age groups and of all skin types.
Thanks to this approach, Collistar has been a success since its start, developing some of the most groundbreaking products on the Italian market. One of htem, the Nourishing Supermoisturizing Compact Cream, was even part of the exhibition in Milan's National Museum of Science and Technology Leonardo da Vinci.
The brand is also well-known for its anti-cellulite treatments, anti-aging treatments, men's skin care, sunscreens and other products.