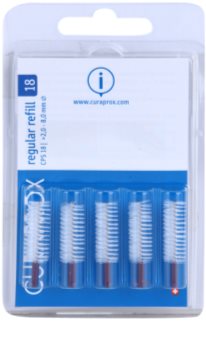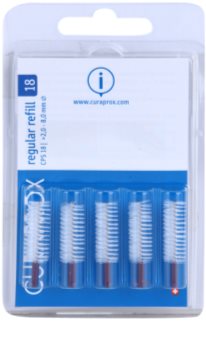 Description

About the brand

Review
Description

Curaprox Regular Refil CPS
The Curaprox Regular Refill CPS replacement interdental brush replaces your old one, thus guaranteeing perfect oral care.
Characteristics:
is exchanged for your old brush
easy to replace
removes dirt from between the teeth perfectly
does not irritate and does not damage the teeth or gums
reduces the risk of tooth decay
prevents gingivitis and bad breath
How to use:
Replace the old brush with the replacement brush. Insert the brush into the interdental spaces and clean by moving back and forth.
Curaprox cosmetics | Curaprox – Swiss precision in dental care. Curaprox is a brand of leading dental hygiene tools developed by Curaden International AG, a Swiss company who are pioneering experts in oral health and individual preventive dental care, in collaboration with dental specialists in teaching, research, and practice.
For decades Curaden have focused or decades mainly on the manufacture and development of quality toothbrushes and interdental brushes, with their main philosophy being perfectly clean teeth, effective tooth cleaning without damage, and partnerships with the best specialists in the field.
The comprehensive range of Curaprox toothbrushes includes brushes to clean visible parts of the teeth with varying degrees of hardness and numbers of bristles, depending on specific needs, such as sensitive teeth, a wide range of interdental brushes, and brushes specially developed for children.
Curaprox manual toothbrushes are not the usual nylon filaments, instead being patented CUREN® filaments, which are incredibly soft and gentle. Thanks to the softness of the filaments, these brushes are atraumatic, meaning there is no risk of injury during use; the density of the filaments ensures the ultimate efficiency, the small, compact, and slightly angled head allows easy access to all areas that need to be cleaned, and the octagonal handle ensures the brush is held correctly when cleaning.
Curaprox interdental brushes are also extremely effective and gentle. They combine ultra-soft patented filaments which unfurl in the interdental space with thin surgical wire, thoroughly cleaning the whole interdental space without damaging the gums, which can happen with dental floss. Curaden think of gentleness even more when it comes to children, so their CURAkid brushes are perfect, soft tools for the first oral hygiene of babies and small children, making oral hygiene fun and enjoyable for them.
The aim of the Curaprox brand is to keep teeth healthy for a lifetime.


Review

Curaprox Regular Refil CPS