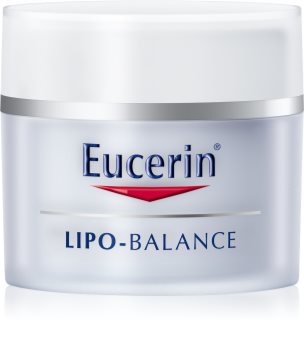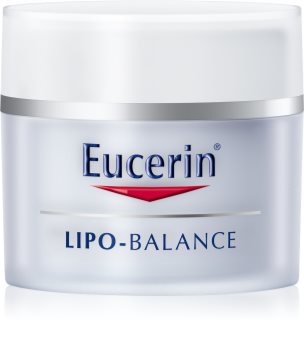 Description

About the brand
Description

Eucerin Dry Skin Dry Skin Lipo - Balance

Characteristics
Description:
Eucerin Dry Skin Lipo-Balance Intensive Nourishing Cream is specially formulated for the needs of dry to very dry skin, suffering from the lack of lipids. It helps brittle, tight skin regain its suppleness and flexibility. Increased intolerance of the skin to negative influences, such as polluted environment, climatic changes, unhealthy lifestyle or stress, often results in burning sensation and redness and also small scales can be formed. Lipo-Balance Cream provides such skin with everyday intensive care. It instantly soothes the skin, adds vital lipids, removes tension and protects against UV rays. The special nourishing formula of the cream with active ingredients supports the creation of skin's own lipids and activates the skin's natural protective barrier against drying out. Eucerin Lipo -Balance Nourishing Cream quickly absorbs and does not leave an oily film. It was clinically and dermatologist-tested and approved. It wasn't tested on animals. Your skin will be smooth, soothed and protected from drying out for a long time. It will remain supple all day long.
Effects:
• intensively nourishes the skin
• restores skin's flexibility
• soothes the skin
• adds vital lipids
• does not clog pores
• SPF 6 + UVA protection
Ingredients:
• Ceramide 3 – stimulates the formation of lipids
• Biotin – activates the skin's protective barrier
Skin type:
The cream is ideal for dry and sensitive skin.
How to use:
Apply morning and evening on thoroughly cleansed face, neck and décolleté. Gently massage in. Avoid the sensitive eye area.
Characteristics
Sun Protection

without SPF

When to use

day, day and night
Eucerin pharmacy skin care is a top brand in its category. The research and development of their products is based on the latest scientific discoveries and close cooperation with dermatologists. That's why the company can offer products with medical effects which reflect a modern-day person's needs while meeting the highest dermatological standards and respecting different skin types.
Eucerin has been around for more than a 100 years and learned to perfectly understand the way human skin works. Their iconic regenerative Eucerin Aquaphor ointment was first introduced in 1925 and its success is ever-growing. Zero water content and universal use are only 2 of its many benefits. The Eucerin Hyaluron Filler line is the first ever line of cosmetic products with proven ability to enhance the results of cosmetic procedures with hyaluronic acid.
Whether you pick up a Eucerin moistuirser, specialised sun care, or a gentle Eucerin shampoo, the brand always aims for the same – to give yout he best solution and keep your skin healthy and gorgeous.
Review

Eucerin Dry Skin Dry Skin Lipo - Balance

1