Eucerin
pH5
Shower Oil for Sensitive Skin Refill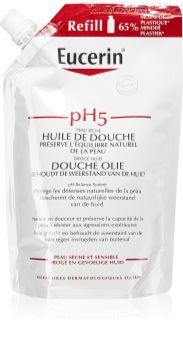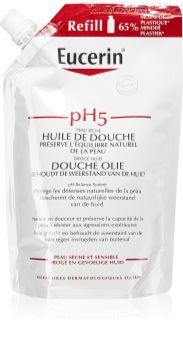 Description

About the brand
Description:
Eucerin pH5 Shower Oil is suitable for gentle washing of very sensitive skin. It does not irritate or dry out. It creates a protective lipid-replenishing film which effectively prevents dehydration. The formula contains a unique EnzymSchutz complex – enzyme protection which provides optimum hydration and supports the production of colagen and elastin fibres, thereby keeping the skin flexible and healthy.
Dermatological and clinical tests proved excellent tolerability on sensitive skin. The product is colourant-free, paraben-free, fragrance-free and does not contain alkaline soap ingredients. It is hypoallergenic. It wasn't tested on animals.
During showering, the oil produces smooth lather which rinses off easily. Eucerin pH5 Shower Oil keeps your skin in a perfect shape even if used daily.
Effects:
• gently washes and does not dry out the skin
• helps the skin reactivate its natural defence mechanisms
• prevents irritation of sensitive skin
• hydrates the skin
Ingredients:
• Citrate buffer – maintains a stable pH level
• Enzyme protection – stimulates the skin's defence mechanisms
Skin type:
The oil is ideal for sensitive and dry skin. Also suitable for allergy-prone skin.
How to use:
Apply an adequate amount on wet skin. Work into lather and rinse with a sufficient amount of water. In case of contact with eyes, rinse thoroughly with water.
Eucerin pharmacy skin care is a top brand in its category. The research and development of their products is based on the latest scientific discoveries and close cooperation with dermatologists. That's why the company can offer products with medical effects which reflect a modern-day person's needs while meeting the highest dermatological standards and respecting different skin types.
Eucerin has been around for more than a 100 years and learned to perfectly understand the way human skin works. Their iconic regenerative Eucerin Aquaphor ointment was first introduced in 1925 and its success is ever-growing. Zero water content and universal use are only 2 of its many benefits. The Eucerin Hyaluron Filler line is the first ever line of cosmetic products with proven ability to enhance the results of cosmetic procedures with hyaluronic acid.
Whether you pick up a Eucerin moistuirser, specialised sun care, or a gentle Eucerin shampoo, the brand always aims for the same – to give yout he best solution and keep your skin healthy and gorgeous.