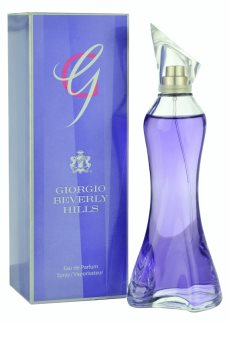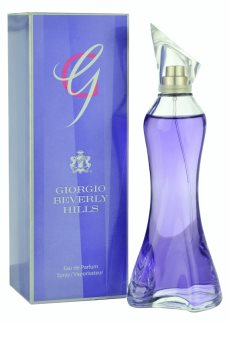 Fragrance description

Giorgio Beverly Hills Giorgio G
Giorgio Beverly Hills Giorgio G eau de toilette for women is an elegant, modern and fine combination of exotic woods with fruity and floral essences. This unforgettable fragrance was created for women with imagination who live their lives to the full and like meeting new people. Thanks to its unobtrusive freshness, Giorgio G is suitable as a stylish accessory on any occasion all year round.
The base of Giorgio G eau de toilette by Giorgio Beverly Hills is full of desire. It hides an attractive blend of sensual sandalwood, enchanting vetiver and exotic assam wood scents. You will find a playful mixture of refined orchid, tender peony, juicy peach and ginger in the heart of the perfume.
At the very end, Giorgio G will captivate you with its fruity freshness springing from slightly bitter grapefruit, sunny pineapple and melon that evokes a warm summer. There is no doubt you will immediately fall in love with this unique composition. You will be irresistibly beautiful with Giorgio G by Giorgio Beverly Hills and you will easily attract attention of every man in your vicinity.
Ingredients
Composition

Cedar, Frangipani, Hyacinth, Lily, Orchid, Peony, Wood

Ginger, Orchid, Peach, Peony

Exotic Woody Plants, Sandalwood, Vetiver
About the brand

Giorgio Beverly Hills
A legend among businessmen, Fred Hayman opened Giorgio Beverly Hills in 1961. It was a luxury retail store that soon became a symbol of the opulent Hollywood lifestyle. Many celebrities, musicians, and famous businessmen go to the boutique with the yellow and white stripes to choose their premium outfits.
Giorgio Beverly Hills has not forgotten about great perfumes either. The first one came out in 1981, with the name Giorgio. It is an oriental blend with exotic tones which became very popular and sought after. Nowadays, Giorgio Beverly Hills has a wide range which is sure to have something for you.

Review

Giorgio Beverly Hills Giorgio G
This product has not yet been rated, be the first!