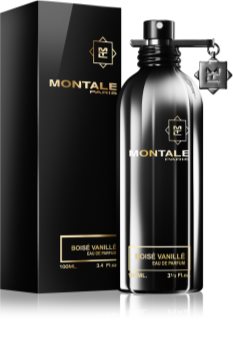 Code:

MNT1496
|
Over 20 pcs in stock
Fragrance description

Montale Boisé Vanillé
Montale Boisé Vanillé is an oriental, vanilla fragrance for women. This eau de parfum by the French perfume producer, specific mainly due to its love for aromas of the Orient and Arabia and their magical history, offers a unique, complex, spicy and woody interpretation of vanilla. Just like all the fragrances by Montale, Boisé Vanillé was created by admired and rather mysterious Pierre Montale who made it original to evoke a magic potion or a precious miraculous ointment.
The aromatic composition of Montale Boisé Vanillé eau de parfum consists of chords of lemon, bergamot, lavender, pelargonium, cedar, iris, patchouli, tonka beans, pepper, and - of course - vanilla. Its aroma, merging the beautiful chord of vanilla with fresh and spicy, aromatic, and woody aspects and citrus and floral aspects, is slightly attractive, dark and thoughtful. Thanks to its floral heart, Boisé Vanillé is harmonious with a base of patchouli and with tonka beans making it sensual.
It looks like the founder of Montale brand and the creator of all the perfumes in its portfolio obtained mysterious skills of an oriental magician during his stay in Saudi Arabia. Pierre Montale created a unique interpretation of vanilla in which citrus and aromatic tones minimized the typical sweetness of vanilla while the dark spices and woody chords put it in an amazing contrast. Just like all the other perfumes by Pierre Montale, Boisé Vanillé is created from natural materials of the highest quality in high concentrations to provide long-lasting effects.
Thanks to its universality, this sophisticated eau de parfum can be worn in any season and at any occasion. It'll win hearts mainly of the women who like the aroma of vanilla, especially in its oriental and not so sweet version. Also, all those who like to appreciate true quality in combination with originality should give it a try. Besides their amazing aromas with perfectly balanced aromatic compositions, the perfumes by Montale will draw your attention also by their original packages. Their design enchants your by its straightforward, pure elegance, in case of Boisé Vanillé underlined by elegant and shiny black color, and what makes the flacons unique is also the practical choice of the materials used. Pierre Montale decided for aluminium to proved the perfumes with perfect protection.
Montale Boisé Vanillé – a sophisticated and thoughtful aroma of vanilla in a unique, spicy-woody aromatic composition.
Ingredients
Composition

Bergamot, Cedar, Lavender, Lemon, Patchouli, Pepper, Tonka Beans, Vanilla
About the brand

Montale
Montale perfumes | Montale – perfumes born of love for the magical scents and history of the Orient. Montale is a French perfume brand which is noted for its love of fragrances from the Orient and Arabia and for its interest in their enchanting history. Montale perfumes present breathtaking Oriental fragrances to the Western world. Each bottle combines the mysterious atmosphere of the East with the passion of their creator and brand founder Pierre Montale, and all the fragrances by this original brand are like miraculous salves bringing luck or the elixir of love.
Montale was founded in Paris in 2003 by Pierre Montale, for many a mysterious perfume designer who first spent some time in Saudi Arabia, where he created perfume for the nobility and kings and queens. Upon his return to Paris he began developing original perfumes inspired by his experiences in the East for the Western market. For his fragrant creations he always chooses natural materials of the highest quality and in high concentrations which ensure that the fragrance has a long-lasting effect.
Pierre Montale typically uses Arabian essences, especially rare woods, as the main components in his women's, men's, and unisex perfumes. You can find cedar, sandalwood, and eagle wood, also known as oud, agarwood, aoud, or (in Arabic) oudh. Aquilaria tree wood plays a special role in Pierre's creations. Montale introduced the first French perfume range to the market dedicated to this fascinating raw material with a resinous aroma, the most expensive wood in the world, utilised for centuries in the production of incense and (especially Arab) perfumes. Eagle wood is a truly regal ingredient in the perfume world, especially in the East, where it is also considered a significant aphrodisiac. It is no accident that this wood is also known as liquid gold or the 'wood of the gods'.
The first perfumes by Montale soon became firm favourites and had a positive response from customers and also professionals, perfume critics. The Montale perfume portfolio is extensive (Pierre has hundreds of scents to his name) and very complex. From dark, emotionally-charged cocktails to sweet nectar-rich scents and leather-scented perfumes, to optimism-filled, exuberant creations. Montale perfumes offer the chance to embark on an intricate path where another new discovery and adventure awaits us around every corner. They are all characterised, of course, by the highest quality and not just because they are popular amongst prominent celebrities.
It's not just the Montale fragrances that are original; their packaging is, too. The design is enchanting thanks to its straightforward and pure elegance and the practical aspect also makes the bottles unique. They are made of aluminium, which protects the perfumes well and ensures their high durability. In addition, the unusual material of the bottles makes Montale perfume perfect for travelling.
Choose your love potion or magical lucky ointment from Montale perfumes and let yourself be enchanted by the magical history of the Orient.