Neutrogena
Hand Care
Anti - Ageing Hand Cream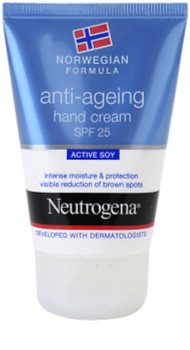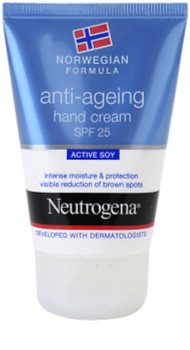 UPS Air Mail
tomorrow
Thursday 10/24/2019
Product description

Neutrogena Hand Care
Description:
Neutrogena Hand Care efficiently protects your skin from external effects and signs of ageing thanks to its SPF 15. Its Norwegian technology using active soya intensively hydrates and nourishes your skin. It regulates the production of melanin, reduces the emergence of brown lesions, and helps prevent their emergence. Hand Care cream protects your skin from sunshine and leaves it soft, smooth, and looking young. It is quick to absorb. Developed in cooperation with dermatologists.
Beautiful young hands easily and quickly thanks to this perfect cream by Neutrogena!
Effects:
intensive hydration
reduces brown lesions
softens and smoothes
prevents the skin from ageing
protects the skin from external effects (SPF 15)
Composition:
soya – softening and hydrating
glycerin – ensures optimal hydration, revives the look of your skin
Type of skin:
Suitable for all types of skin.
Application:
Apply a small amount on your hands and massage thoroughly into your skin. If you have very damaged hands, repeat the procedure every 3 hours.
About the brand

Neutrogena
Neutrogena has been offering effective skin care products for almost a century. The brand's history began in 1930, when Manny Stolaroff started supplying his products to beauty salons. His breakthrough came in 1954, when he learned about the properties of the soap made by the grandson of Napoleon's personal physician. The soap was not irritating to the skin and was easy to rinse off. Stolaroff was so fascinated by this soap that he started distributing it under the name Neutrogena.
It was a massive success. In the 1960s, he founded the Neutrogena corporation. Another milestone in the company's journey was the patenting of the Norwegian Formula, the unique blend of ingredients designed to meet the needs of skin exposed to harsh climatic conditions.
The brand's iconic products include not only the Neutrogena Visibly Renew collection based on the Norwegian Formula, but also the Neutrogena Visibly Clear line and Neutrogena hand creams. Thanks to the use of active ingredients and collaboration with leading dermatologists, the result are products that truly reflect the needs of the skin and provide effective care.

Review

Neutrogena Hand Care
Display ratings by properties
satisfaction with the results