Parodontax
Complete Protection Whitening
Whitening Toothpaste with Fluoride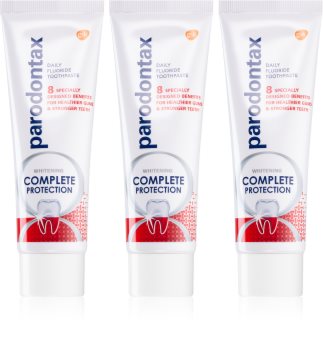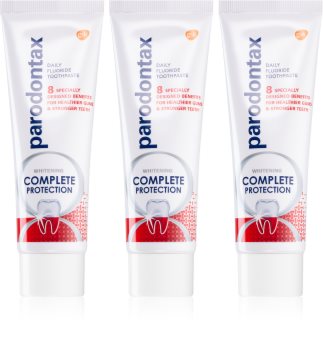 Code:

PRO02860
|
In stock
Description

About the brand
Description

Parodontax Complete Protection Whitening

Characteristics
The Parodontax Complete Protection Whitening toothpaste with fluoride introduces eight benefits for a brighter smile. It is specially designed to keep gums healthy and teeth white and strong. Moreover, if used twice a day, it is clinically proved to help prevent bleeding gums.
The Parodontax Complete Protection Whitening toothpaste cleans the entire oral cavity thoroughly, removes dental plaque and freshens your breath pleasantly. It also removes unwanted pigmentation gently, restoring the natural white shade of your teeth.
Characteristics:
cleans the entire oral cavity deeply
helps remove dental plaque
strengthens and protects tooth enamel
restores the natural white shade of teeth
helps prevent bleeding gums and provide them with protection
helps reduce red and inflamed gums
strengthens the gums
freshens the breath pleasantly
Ingredients:
How to use:
apply a small amount to your toothbrush and clean your teeth thoroughly. Use at least twice a day, but not more than three times a day. Minimise swallowing and rinse your mouth thoroughly after brushing.
About the brand

Parodontax
Parodontax cosmetics | Parodontax – an end to bleeding gums. Parodontax is a unique toothpaste for bleeding gums, from the Consumer Healthcare division at GSK (GlaxoSmithKline, s.r.o.), which is the Czech office of one of the largest pharmaceutical companies in the world, GlaxoSmithKline Plc., which is based in London. It researches, develops, manufactures, and sells medicines and is a leading global innovator in its field.
Parodontax toothpaste, mouthwashes, and toothbrushes help prevent or stop bleeding gums. They contain 70% active ingredients, unlike conventional toothpaste, which tends to have around 25%. The unique combination of mineral salts and plant extracts of echinacea, mint, sage, myrrh, chamomile, and ratanhia guarantees unique efficiency and a characteristic intense flavour and the removal of dental plaque and neutralisation of acids all strengthen the gums' natural resistance, freshening breath, soothing irritated tissue, and promoting healing and, finally, tightening up bleeding cracks in the gums.
Parodontax also offers toothpastes with special effects and properties. Parodontax Extra Fresh helps prevent bleeding gums and provides intense cool freshness, Parodontax Whitening gently and effectively removes tooth discolouration, restoring the natural whiteness of the teeth, the clinically proven effect of Parodontax herbal toothpaste with fluoride helps stop bleeding, and for customers who are sensitive to fluoride there is fluoride-free Parodontax, which also reduces bleeding gums.
Parodontax knows that bleeding gums are one of the first signs of gingivitis. If untreated, it can lead to tooth loss. Regular brushing with Parodontax offers effective defence against this.

Review

Parodontax Complete Protection Whitening

1