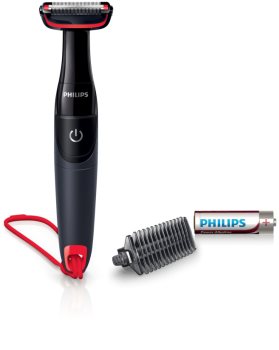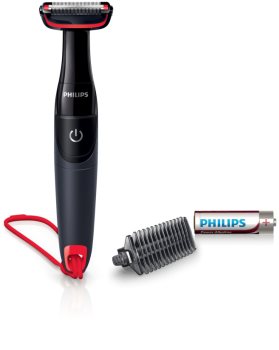 Waterproof Body Hair Trimmer
---
Product description

Philips Bodygroom Series 1000 BG105/10
TRIMS BODY HAIR, PROTECTS SKIN
even in sensitive areas
Comfortably trim unwanted body hair so you're always prepared for any occasion. This intuitive Bodygroom is designed to be gentle to ensure that manscaping won't go wrong even on your most delicate body areas.
Skin Protection
Guards your skin while you trim
Seamlessly trims hair in both directions
Attach the 3mm comb for a longer look
Easy to use
Easy to clean and use in or out of the shower
Includes one AA battery, up to 2 months use
Easily store your body groomer wherever you want
Built to last
No need to replace the blades
2-year guarantee
Highlights
Body groomer
Unique Skin Protector 3mm trimming comb, 100% waterproof, AA battery power
Unique Skin Protector
The unique skin protector guards even your most sensitive body areas, allowing you to comfortably trim hair as close as 0.5mm without directly exposing your skin to blades.
Bi-directional trimmer
Uniquely designed to trim hair both backwards and forwards, this trimmer makes it possible to catch and cut hairs even when they grow in different directions.
Trimming comb
Just click on the bi-directional comb and trim your hair in any direction you like, to a consistent length of 3mm.
100% waterproof
Provides a comfortable and close trim in or out of the shower. The Philips Bodygroom is 100% waterproof, so you can simply rinse it clean when you're done.
Shower cord
Hang the Philips Bodygroom where it's most convenient for you. Easily accessible and always ready to go.
AA battery power
Cordless use thanks to AA battery power - the Philips Bodygroom is ready to use whenever, wherever. For optimal performance with up to two months use, use high quality Philips Alkaline AA batteries. Battery performance and run-time may differ depending on hair type and frequency of use.
Long-lasting sharpness
The blades are designed to last, time after time and don't need replacement on a regular basis.
Built to last
All of our products are build to last and come with a 2-year worldwide guarantee.
Specifications
Body groomer
Unique Skin Protector 3mm trimming comb, 100% waterproof, AA battery power
Cutting system
Cutter width: 32 mm
Cutting element: Bi-directional trimmer
Skin comfort: 0.5mm skin protector, Comfort in sensitive areas
Create the look you want
Styling tools: 3mm comb for a longer look
Number of length settings: 0.5mm, 3mm (with comb)
Accessories
Included batteries: AA battery included
Ease of use
Wet & Dry: 100% waterproof, Shower use and easy cleaning
Maintenance free: No oil needed, No need to replace the blades
Power
Service
2-year worldwide guarantee
Characteristics
Type of power supply

battery
Philips has been a household name for more than a century, more precisely for over 120 years. During this time, Philips earned a name for itself as the go-to brand for electric appliances, including tools designed for personal care.
Philips & Co. was founded in 1891 in Eindhoven, Netherlands, at first aiming to produce light bulbs, growing in demand with the electrification of households.
After some time, the company began to grow and create products for other uses. These days, Philips is one of the most respected brands for their medical electronics or energy-saving light bulbs, but also for their shavers, trimmers and electric toothbrushes. Over the years, Philips has come up with many new technologies and innovations, keeping in mind that the products must always be comfortable to use and pleasant to look at. While reflecting the latest research and trends, the Philips products are simple and accessible enough for an easy use at home.
Beautyspin carries many Philips personal care products from hair dryers to beard trimmers. We also have Philips Sonicare electric toothbrushes featuring a patented sonic technology that will make your daily dental hygiene even more effective.
Philips is a synonym of traditional and time-tested values combined with innovation and progress. As one of the most reliable brands on the market, it will make your everyday life considerably easier while still keeping up with the latest trends.
Review

Philips Bodygroom Series 1000 BG105/10