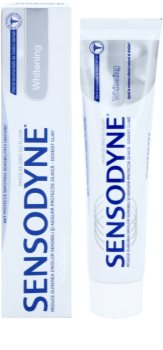 Code:

SES2331
|
This item is currently unavailable
Get notified when the product is available

Get notified when the product is available
Product description

Sensodyne Whitening
Description:

Colored and sensitive teeth require special care, which is why we created Sensodyne Whitening Care toothpaste to reduce sensitivity of your teeth and the changes of their color. It actively fights tooth decay. Use to reduce sensitivity of your teeth and their necks. Regular use of Whitening Care toothpaste make your teeth look naturally white. At the same time, it suppresses bad breath and maintains long-lasting freshness in your mouth. 
Effects:
reduces teeth sensitivity
suppresses the changes of the color of your teeth
fights bad breath
maintains long-lasting freshness
Composition:
sodium fluoride – fights tooth decay
Application:
Use Sensodyne Whitening Care twice a day. Apply on your toothbrush in the amount as big as a pea seed, clean your teeth thoroughly, and rinse your mouth.
About the brand

Sensodyne
Sensodyne – the best choice for sensitive teeth. Sensodyne is an oral care brand that is aimed at customers with sensitive teeth. The first Sensodyne toothpaste, with a high chloride content to provide desensitisation, was introduced back in 1961 in the United States and was a true breakthrough in addressing excessive sensitivity.
Sensitive teeth are a widespread problem that can have a huge impact on your life. For some people with sensitive teeth, having certain food and drinks can become an absolute misery and sometimes completely taboo. Sensitivity is caused by exposure of the dentine, which is normally protected by enamel. When the dentine comes into contact with something hot, cold, sweet, or sour, the nerve endings are irritated, which manifests itself as a short, sharp pain.
The potassium chloride contained in Sensodyne toothpastes penetrates the nerve endings and reduces the sensitivity of the nerve. At the same time, strontium chloride mechanically clogs the dentine channel, so the irritating stimuli do not come into contact with the sensitive nerve.
The brand, which is approved by experts, offers a wide range of specialist toothpastes, including Sensodyne Repair & Protect, which repairs the weakened parts of the teeth, Sensodyne Rapid, which brings relief from the pain of sensitive teeth within 60 seconds, and Sensodyne Pronamel, which protects tooth enamel from erosive acids. The range also includes mouthwashes, toothbrushes, and dental floss of the highest quality.
Sensodyne provides complete care to end the misery of sensitive teeth.