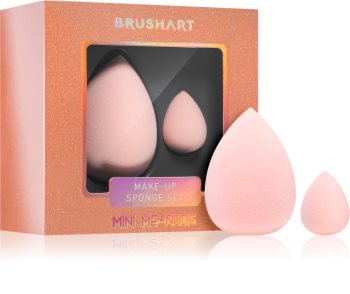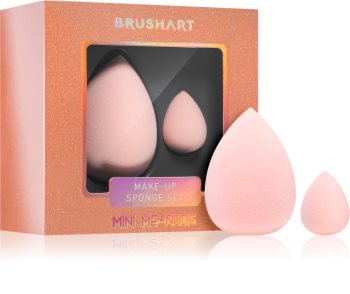 In stock
|
Code:

BRU03913
The cutest beauty tool you have ever owned! This BrushArt Face makeup sponge comes as a duo along with its own mini version – and they're both completely perfect for creating a flawless everyday look. With these tools, your makeup will always look stunning.
The wide part of the sponge is ideal for larger areas, while the pointed one is designed for detail work. For really precise application, use the mini sponge to apply makeup under your eyes or to any other area. Do you already have all the makeup products you need? Then getting this set is the only thing that separates you from a perfect look.
Characteristics:
set of makeup sponge for foundation and other products in a standard and mini-size version
ideal for covering larger areas as well as for detailed makeup application
allows for quick use, soft material feels nice on the skin
doesn't leave streaks, works makeup into the skin thoroughly
doesn't waste makeup product if pre-soaked in water
in a trendy pink design, lovely as a gift
How to use:
Both sponges need to be first soaked in water. Then squeeze out the excess and apply your makeup from the centre of your face outwards, blending it out. Use gentle pressure and dabbing motions to work the product into the skin thoroughly.
A youthful brand that's setting trends in makeup, hair care and styling, BrushArt offers hair brushes, makeup brushes and products to take care of them, as well as cosmetic bags in cool designs and an array of various beauty accessories. Basically, everything a true It Girl needs!
Some of the brand's most popular products are boar bristle brushes which will give your hair more shine than you thought was possible! And if you need to apply your foundation quickly, makeup sponges are unbeatable when it comes to creating a natural finish.
BrushArt of course offers fantastic makeup brushes as well. Their bristles are perfectly soft, create flawless makeup looks and make for an excellent gift, especially along with a cosmetic bag. The little ones will simply love kids cosmetic bags, hair pins and elastics. Those can gently tame even the finest hair while looking so adorable!
This is BrushArt — quality tools at affordable prices and in a trendy design that will make your beauty routine more fun.