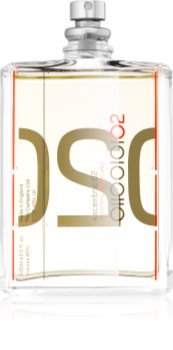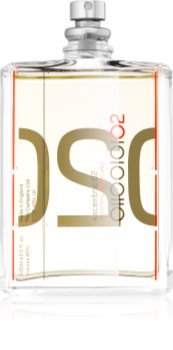 Description

About the brand

Review
Description

Escentric Molecules Escentric 02

Ingredients
Life your life the way you want to. Don't care what anyone else thinks. Don't look back. Escentric Molecules Escentric 02 Eau de Toilette was designed for everyone who pushes through the boundaries. Its composition is equally suitable for men and women, because there are no limits int he world of fragrance.
a postmodern fragrance based on modern synthetics
woody and ambery, yet light
develops beautifully in warm weather
Composition of the fragrance
Escentric 02 contains the highest possible concentration of ambroxan (13.5%), a synthetic molecule with an aroma resembling amber. Ambroxan is mixed with hedione – a green, jasmine molecule – for a refreshing effect reminiscent of gin&tonic. The dry, woody, radiant character of the fragrance comes courtesy of Iso E Super, a molecule that smells like fresh pencil shavings.
Story of the fragrance
The German niche perfume brand Escentric Molecules was founded in 2006. Geza Schoen decided to enter the market with a new concept which would serve as a challenging response to the way contemporary perfume is created and marketed. He strives to demystify the whole process, making every single Escentric Molecules fragrance utterly unorthodox and provocative. 
Ingredients
Composition

Ambroxan, Jasmine, Iso E Super

Fragrance category

floral, woody
About the brand

Escentric Molecules
When they were first launched in 2006, Escentric Molecules perfumes became an absolute worldwide phenomenon. Their success lies in their totally unique composition, which is often built on the strength of a single component of the fragrance. This minimalism makes the Escentric Molecules scents highly unusual.
Escentric Molecules celebrates perfumery like the art of chemistry. The aroma molecule of Iso E Super, the key ingredient of these niche perfumes, was created in laboratories as far back as in 1973.
However, the perfumery world neglected it until it was completely isolated by the Berlin perfumer Geza Schoen. He created two fragrances – Escentric Molecules Molecule 01 and Escentric Molecules Molecule 02 – which this special fragrance component combines.
Escentric Molecules niche perfumes are long-lasting and are made for people who like to find extravagant and original things. Their novel aroma conjures up a once-in-a-lifetime story for every individual's skin.
Review

Escentric Molecules Escentric 02