Grès
Cabochard
Eau de Parfum for Women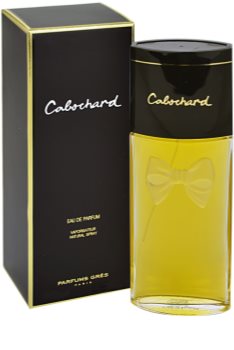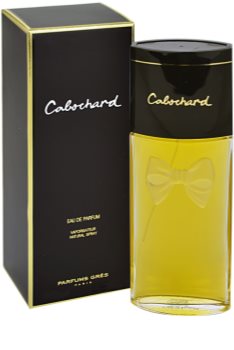 Code:

GRE0012
|
This item is currently unavailable
Get notified when the product is available
Fragrance description

Grès Cabochard
Gres Cabochard is an interesting fragrance for women launched already in 1959. For the fans of retro scents with an unusual composition, Cabochard is the right choice. Its uncommon combination of leather, fruit, and flowers lasts incredibly long and is designed for the women who are not afraid to stand out in the crowd and be very original. This is a full aroma suitable mainly for colder days and festive occasions.
Gres for this cocktail for all self-confident divas created a simple oval flacon with a black cap and a motif of a ribbon. Its box is black, decorated with a thin white stripe. Cabochard is not a perfume for everybody, but since its launch it has built a strong position among perfumes and pleases a great number of women even 60 years later.
With the first tones of this perfume by Gres you can smell fresh ylang-ylang, complemented by sparkling galbanum and a smooth note of rose. Its heart is full of flowers, and its very elegant combination of amazing jasmine and sweetish Bulgarian rose will please both romantic and more traditional women. Its interesting combination of oakmoss, earthy vetiver, sensual musk, and intensive patchouli smoothly merges with your skin and makes it smell awesome for an incredibly long time.
Gres, a fashion icon of the previous century, was popular among stars like Greta Garbo, Marlene Dietrich, and others. It focused mainly on haute couture, which was the most luxurious fashion ever, and so it required a very luxury fragrance, too. Today, this former icon of prestigious clothing is not very successful. However, it still produces interesting perfumes. Its collections for both men and women are always original, uncommon, and need some time. The fans of Gres know that if somebody gives this first-class fragrance brand a chance, they will never abandon it.
Gres Cabochard is now almost a historical composition whose loud tones still entertain thousands of women all over the world. If you like interesting fragrances that draw your attention by their uncommon composition and unconventional tinge of femininity, don't hesitate! Gres Cabochard is waiting for you on our website for an unparalleled price.
Ingredients
Fruity Notes, Green Notes, Lemon, Sage, Spices, Tea

Carnation, Jasmine, Orris, Rose, Ylang-Ylang

Amber, Coconut, Leather, Moss, Musk, Patchouli, Sandalwood, Tobacco, Vetiver

Fragrance category

leather
The name Gres comes from a woman called Germaine Emilie Krebs. She was born in 1903, and originally wanted to become a sculptor or ballerina. She began making hats and in 1932 opened her first fashion house, Alex Couture.
Madame Gres understood women's clothing as a work of art and tested the fabric directly on the models. Gres soon became a symbol for elegant clothes. They dressed some famous names – among them Greta Garbo, Marlene Dietrich, Dolores del Río, Lady Deterling, and many others. From 1942 she began working under the name Gres.
The first perfume for women by Gres came out in 1959 and was called Cabochard. In 1982, Gres was forced to sell the perfume business, which eventually happened in 1984. The owners changed. Today the company is based in Switzerland but still has several dozen original fragrances.

Display ratings by properties