Philips
Shaver Series 5000 SH50/50
Replacement Bladess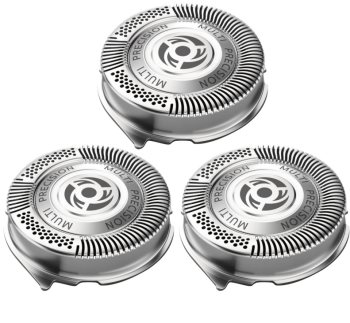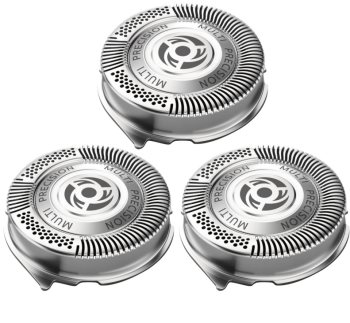 Product description

About the brand

Review
Product description

Philips Shaver Series 5000 SH50/50
Reset your shaver to new
Change heads every 2 years for the best results
Within two years your shaver heads cut 9 million hairs on your face. Replace the shaver heads and get back to 100% performance.
Close, fast shave
 Blades raise then cut long and short hairs for a fast shave
Super Lift and Cut Action lifts hairs to cut comfortably close
Easy to use
Replacement reminder
Easy to replace shaving heads
Reset your shaver after replacing shaving heads
Reset your shaver to new
Shaving heads SH50/50 MultiPrecision blades
Highlights
Replacement reminder
The latest Philips shavers have an inbuilt replacement reminder in the form of a shaving unit symbol. This symbol will light up and indicate when to replace the shaving heads.
Simple replacement
1. Open the shaver by pressing the "release" button; 2. Remove the retaining rings by turning them anti-clockwise; 3. Take out the old shaving heads and carefully insert replacements; check that the heads align exactly in the setting; 4. Replace the retaining rings and secure them by turning the lock clockwise; 5. When you close the shaving head properly, you will hear it click into place.
How to reset your shaver
After replacing the shaving heads, you can reset the replacement reminder by pressing the on/off button for more than 7 seconds. Otherwise, the replacement trigger will turn off automatically after 9 successive shaves.
Reset your shaver to new
To get back to 100% performance, replace your shaving heads every 2 years.
MultiPrecision blades
Get a shave that's fast and close. Our MultiPrecision blades raise and cut all hairs and remaining stubble – all in a few strokes.
Super Lift & Cut Action
Shave closer with the dual-blade Super Lift and Cut action. The first blade raises each hair while the second blade comfortably cuts below skin level, for really smooth results.
Specifications
Shaving heads
Fits product type: Shaver series 5000 (S5xxx), AquaTouch (S5xxx)
Shaving heads per packaging: 3
Cleaning
Usage: Use cleaning spray HQ110
Philips has been a household name for more than a century, more precisely for over 120 years. During this time, Philips earned a name for itself as the go-to brand for electric appliances, including tools designed for personal care.
Philips & Co. was founded in 1891 in Eindhoven, Netherlands, at first aiming to produce light bulbs, growing in demand with the electrification of households.
After some time, the company began to grow and create products for other uses. These days, Philips is one of the most respected brands for their medical electronics or energy-saving light bulbs, but also for their shavers, trimmers and electric toothbrushes. Over the years, Philips has come up with many new technologies and innovations, keeping in mind that the products must always be comfortable to use and pleasant to look at. While reflecting the latest research and trends, the Philips products are simple and accessible enough for an easy use at home.
Beautyspin carries many Philips personal care products from hair dryers to beard trimmers. We also have Philips Sonicare electric toothbrushes featuring a patented sonic technology that will make your daily dental hygiene even more effective.
Philips is a synonym of traditional and time-tested values combined with innovation and progress. As one of the most reliable brands on the market, it will make your everyday life considerably easier while still keeping up with the latest trends.
Review

Philips Shaver Series 5000 SH50/50