TePe

Angle
Interdental Brushess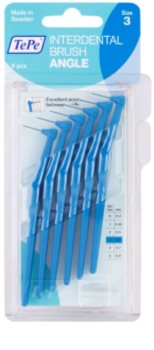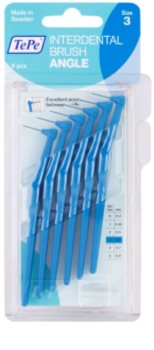 Recommended retail price
£
5.29
You save 31%
---
A gift for you
Free delivery over £25.
Description

About the brand

Review
Regular toothbrushes have a hard time reaching narrow interdental spaces. The Tepe Angle special interdental brush was designed for exactly this purpose. It fits in between individual teeth and removes every trace of plaque thoroughly. Therefore, it significantly minimises the risk of cavities or gum inflammation.
The TePe Angle interdental brush has an angled head with soft bristles for gentle cleaning around sensitive gums and teeth implants. Its long handle is easy to hold and allows you to clean at the desired angle. You can choose from several different diameters of bristles.
Characteristics:
cleans the interdental spaces gently → up to 40% more effective in removing
plaque than a regular toothbrush alone
prevents gum inflammation and cavities
gentle on sensitive gums
safe for cleaning around implants
helps eliminate bad breath
easy to hold thanks to its long handle
How to use:
place the brush in the gap between the teeth and clean with back-and-forth motions. Rinse thoroughly after use.
TePe, a Swedish family business, was founded in 1965, and focuses on the development, manufacture, and sale of high-quality and effective oral hygiene products, backed by a high level of expertise. The vision of TePe is to raise general awareness of the importance of preventive dental care, in particular cleaning the interdental space, thus contributing to better oral health and the overall quality of people worldwide.
Many people today still neglect the care of their interdental spaces. A regular toothbrush only cleans the surface of your teeth from the front and back and on the biting surfaces, so lots of harmful bacteria remain hidden in the spaces between your teeth. These can cause gum disease, tooth decay, and bad breath.
The solution is the regular use of tools designed specifically for interdental cleaning. TePe interdental brushes are manufactured in many variants to meet the diverse needs of different individuals. The individual ranges are clearly distinguished by different colours. They are all equipped with special features to ensure the highest quality and efficiency.
The metal parts are coated in plastic for safe and gentle cleaning and through different angular cleaning sections there is easy access to both the front teeth and the molars. The ergonomically shaped handles made of recyclable material ensure ease of use. The interdental brushes and other products for complete oral care by TePe are developed in cooperation with professional dentists.
The TePe motto is: 'We care about your healthy smile.'