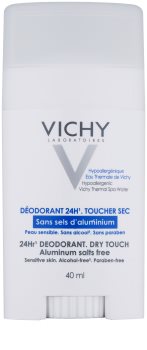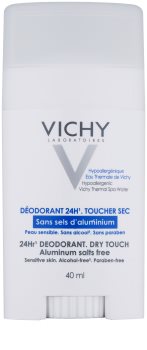 Product description

About the brand

Review
Product description

Vichy Deodorant

Characteristics
Description:
Vichy Deodorant Stick is specially designed for sensitive or depilated skin. It has a 24 hour anti-perspirant effect. It contains an organic amino-complex Proline Cutei with anti-irritant properties. Vichy Deodorant very effectively acts against odours caused by sweating and prevents decomposition of sweat by bacteria. The result is healthy, soft skin in the underarms and a pleasant feeling for 24 hours! It does not contain aluminium salts. Paraben-free and fragrance-free. Prevent unwanted odours and sweating all day long with Vichy Deodorant Stick!
Effects:
• protects from sweat for up to 24 hours
• eliminates unpleasant odours
• prevents skin irritation
• refines skin in the underarms
• can be used on depilated skin
Ingredients:
• Proline Cutei – an organic amino-complex with anti-irritant properties
Skin type:
Ideal for sensitive or depilated skin.
How to use:
Apply in a thin layer on dry and clean skin in the underarms.
Characteristics
Type of packaging

deodorant stick
Vichy pharmacy skin care is synonymous with high quality and reliability. Its products are designed to provide the right care to any skin type including the most sensitive one. The combination of the soothing and reinvigorating mineralised thermal water from Vichy and other active ingredients brings visible results within a few days. The secret of Vichy's thermal water has been known for centuries - the ancient Romans even dedicated this thermal spring to the goddess of beauty.
Vichy is a prime example of a successful marriage between beauty and science. Its key values are demonstrable effects, technology based on latest research, strict ethical rules, and formulas that are well-tolerated by all skin types.
Vichy products help people around the world in taking care of their skin every day. The mission of Vichy laboratories is to develop comprehensive skin care lines suitable for every skin type and provide the best products for the whole family. Whatever your beauty needs are, Vichy skin care always has the perfect answer.