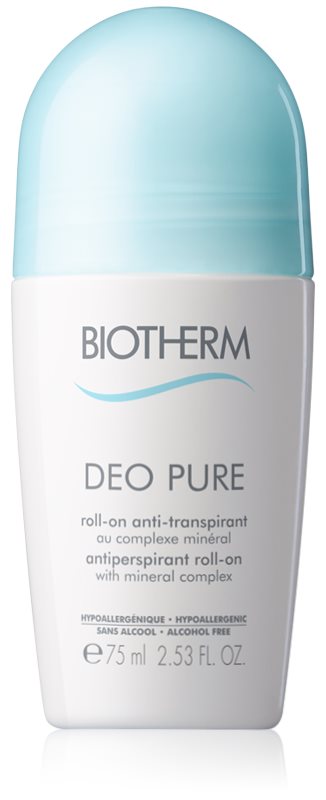 Code:

BIO0154
|
Over 20 pcs in stock
Product description

Biotherm Deo Pure
Description:
Biotherm Deo Pure Roll-On Antiperspirant with long lasting anti-perspiring effect. Its effectiveness lasts for up to 48 hours thanks to Tri-Active mineral complex. It instantly delivers a fresh and clean sensation. It is alcohol-free and has calming and soothing effects.                                                                            Biotherm Deo Pure Antiperspirant can be used even after hair removal in the underarm area. It minimizes the risk of allergy or skin problems. It penetrates quickly upon application and does not leave stains.
Effects:
• long-lasting effect for 48 hours
• delivers a fresh and clean sensation
• has soothing effects
• minimizes the risk of allergy or skin problems
• does not leave stains
Ingredients:
• Tri-Active mineral complex
Skin type:
Suitable for all skin types, even for sensitive skin.
How to use:
Apply to underarms several times a day, as often as needed. Leave to dry for a minute before getting dressed.
About the brand

Biotherm
Biotherm fragrance | Biotherm beauty - Biotherm fragrances and beauty products are based on clean living in harmony with nature. It's a luxury brand full of energy, inspired by the purity of hot springs, minerals and bioactive ingredients. If you prefer your fragrance to smell natural and favour organic compositions, you will be delighted by the fresh and gentle quality of Biotherm products.
Biotherm is now a part of the L'Oréal Paris family, however its rich history began way back in 1952 when a biologist called Jeanine Marissal first thought of using thermal plankton from the hot springs of Molitg-les-Bains in cosmetic products. In 1957, Biotherm came out with a whole line of moisturising products, and in 1961 the company developed its first sunscreen. Many other innovations were to follow, such as the firming and slimming body lotion, the first ever bust-firming cream in the world, or an anti-wrinkle cream. In 1974, Princess Grace opened Biotherm laboratories in Monaco. A decade later, Biotherm became the first company to come up with a whole line of beauty products designed for men, and to this day they are one of the most popular and trusted brands among male customers. The first Biotherm fragrances came out in 1997.
The Biotherm perfumes and aftershaves are always unique and charming, a real treat for the senses. You will feel as if wrapped in a cloud of lovely scented mist that will follow you throughout your day. While Biotherm Eau d'Energie is an everyday scent ideal to make you feel energised and at ease, Biotherm Eau Océane will enchant you with its aquatic notes reminiscent of a walk along the beach.
Biotherm of course doesn't neglect men and their desire to smell enticing and bring forth their originality through the right aftershave. Biotherm Force pour Homme represents the strength of hot springs and the attractive nature of masculinity. It's an intense and active scent that brings about the desire to test your skills and limits. With Biotherm, a man becomes a man in the best possible sense.
If fragrances with a distinct character are your thing, Biotherm is definitely the brand to try.