Kérastase Chronologiste
 Just like our skin, our hair goes through changes as we age. While many women start with their anti-aging skincare routine as early as at age 25, they usually forget to adapt their haircare. And yet, the right ingredients can help maintain your hair healthy, bouncy, and shiny for longer. The Kérastase Chronologiste product range was designed to provide scalp and hair fiber with professional products that prevent hair from signs of premature aging.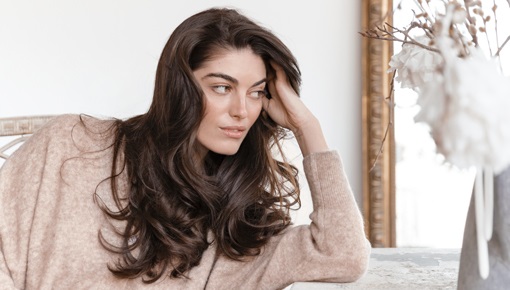 Discover Chronologiste, a haircare routine consisting of 5 powerful anti-aging products that combines advanced technology and unique sensorial experience.
Cleansing
Deep cleansing continues with Kérastase Chronologiste Bain Régénérant shampoo. The Hyaluronic Acid visibly moisturizes hair fiber, which is crucial for keeping its bounce and shine as these tend to diminish with age. A regular dose of antioxidants found in the shampoo will leave your hair stronger and more resilient.
Nourishment
The Kérastase Chronologiste Masque Intense Régénérant hair mask is the next step of your anti-aging routine  providing intense nourishment to your hair fiber with Abyssine. This precious and very powerful molecule is sourced from the sea depths. Abyssine has a calming effect on your scalp while it fills and hydrates the hair fiber. The hair mask also prevents hair from frizz and leaves it velvety soft to touch.
Protection
Get your detoxified and nourished hair ready for Step 4 of the routine with Kérastase Chronologiste Thermique Régénérant. This heat protectant protects hair from heat up to 230°C while enhancing its shine. Enriched with Vitamin E, it reduces harmful effects of the UV on the quality of hair fiber, which is crucial in preventing hair fiber from premature aging. 
Shine
 As we age, the cuticle gets weaker and makes your hair look dull, fragile, and prone to breakage. This Kérastase Chronologiste Huile De Parfum nourishing fragrance oil is a perfect companion to your anti-aging routine as it provides extra moisture, strengthens your hair fibre, and reduces split ends. This blend of Persian Lime, Tea Rose, and Light Woods will enhance your sophisticated personality.
Revitalization
 Finish your anti-aging routine with Kérastase Chronologiste Serum Universel for visible transformation of your hair. The texture of the biomimetic caviar maintains the highest efficiency of the active ingredients. The serum can thus provide hair and scalp with complex revitalization and considerably improves the quality of your hair fiber. You can apply this leave-in both on dry and damp hair or as a night serum.