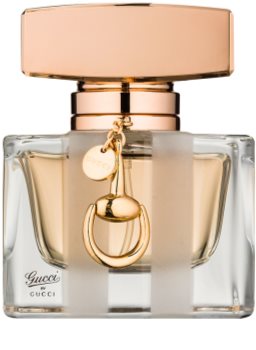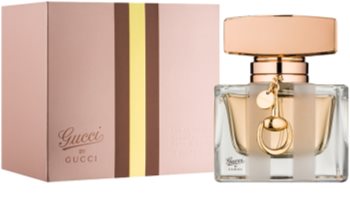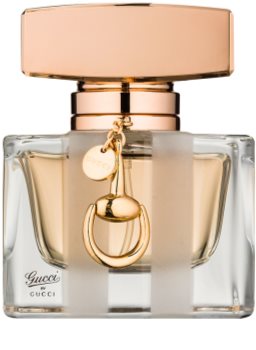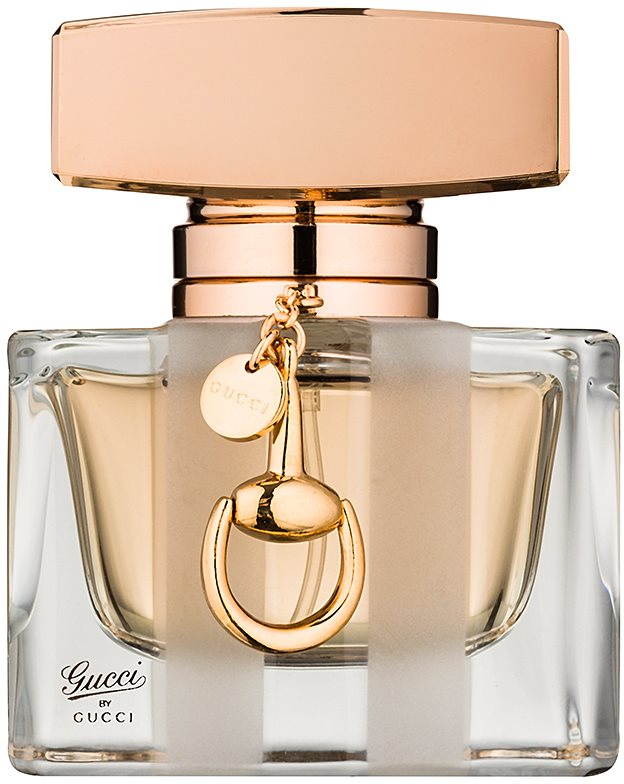 Fragrance description

Gucci by Gucci
Gucci By Gucci is a floral-fruity timeless fragrance, with its freshness urging you to wear it mainly in summer; however, it contains also tones of soft warmness that transform this Gucci eau de toilette into an elegant product to use even on colder days.
This fragrance by Gucci is pleasantly cooling thanks to its fruity tones of orange tree flower, pear, and guave, and its these chords that make it juicy and delicate. Together with its big number of sweetish floral tones of lily of the valley and tiaré - the essential elements of this eau de toilette - form a perfect combination. In order to achieve the absolutely unique experience, Gucci contains also a flavor of honey to create an excellent harmony with the tones of flowers and fruits.
Gucci by Gucci is incredibly fresh and joyful. Thanks to its accents of flowers and a drop of honey, however, it's an elegant and sophisticated eau de toilette, full of true and pure feminity. Just like the other eau de toilettes and perfumes by Gucci, it's timeless and stylish.
Gucci eau de toilette is thus suitable for women of any age group who'd like to emphasize their elegance and feminity. Also, Gucci evokes the feeling of optimism so it's suitable for women who naturally enjoy their life.
Gucci is also a very fine and light fragrance, suitable for day and evening occasions. This is why it's an elegant accessory when you wear a two-piece suit as well as an evening dress.
Gucci boasts amazing flacons of its fragrances, and this eau de toilette comes in a massive glass flacon with simple lines. Luxury is symbolized here by a golden locket embellishing the neck of the flacon which has a massive cap in the Art Deco style. The flacon of Gucci eau de toilette is thus the perfect thing to decorate your dressing table.
Ingredients
Lily Of The Valley, Orange Tree Blossom

Guave, Chamomile, Pear, Smoky Notes

Fragrance groups

Floral, Chypre
About the brand

Gucci
The Gucci fragrances have a curious effect on their wearers - they can lift your mood and your self-esteem in an instant. Just a few drops are enough to make you feel confident in your own skin. So what is Gucci's secret? Maybe it's in the century-old history of the brand, maybe it's the rags-to-riches story of its founder… or maybe it's both, in an inspiring combination of tradition and progress.¨
In 1921, Guccio Gucci started a company selling leather equipment and accessories for horse riding. Back then, he couldn't have possibly known that his name would one day become a legend known all over the world. Apart from making the odd satchel or a handbag, he wasn't particularly interested in the world of fashion. His children, however, proved to be slightly more ambitious than their father, and established the brand as a synonym for fashion accessories. Gucci soon became a popular brand among celebrities such as Audrey Hepburn, Jacqueline Kennedy or Grace Kelly, and a tiny Italian company grew into a big fashion house.
Possibly the most prominent era in the brand's history so far started in 1993 when Tom Ford became its Creative Director, focusing among other things on producing exceptional and daring perfumes under the name of Gucci. These days, it is Frida Giannini helming the creative side of things at the company.
The Gucci fragrance range is wide and varied. As true Italian products, they combine effortless style with a little bit of drama and sophistication. Both the women's and the men's lines aim to make the wearer's personality stand out, and they always succeed, be it the timeless and sensual Eau de Parfum II., the light and elegant Flora, or the young and energetic Rush 2. Gucci Envy Me, another modern classic, is based on the delicate notes of pivoine and jasmine, spiced up every so slightly with pink pepper. The classic Gucci by Gucci Pour Homme will be ideal for anyone who likes it really spicy, while Guilty will provide more of a seductive effect.
When was the last time someone asked you what was the amazing perfume you were wearing? If you decide to try Gucci fragrances, prepare for this to be a daily occurrence. Gucci is both a challenge and an answer for everyone searching for luxury and uniqueness.
This product has not yet been rated; be the first!