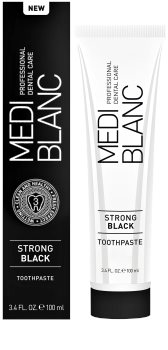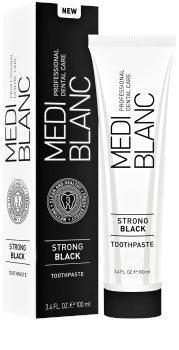 Code:

MEB2963
|
Over 20 pcs in stock
Product description

MEDIBLANC Strong Black
Description:
MEDIBLANC STRONG BLACK is a premium-quality black toothpaste for maximum cleanliness, fresh breath and naturally white teeth. It contains no chemical bleaching agents or highly abrasive material, fluoride, irritating foaming agents or preservatives. The combination of micronised active charcoal and dental silicas ensures a unique result.
The active charcoal binds a large amount of deposits and undesirable bacteria in the mouth which might otherwise cause bad breath and tooth decay. The micronised dental silicas have a large surface area, meaning that each particle can collect up to twice its own weight in impurities. Their rounded edges mean they are less abrasive and remove pigments gently.
When cleaning, the surface of your teeth is covered quickly, creating a rich foam with a uniform distribution of the active ingredients. Thanks to the number of emollients and gentle foaming agents, the entire process is highly effective and yet gentle on the tooth enamel. Calcium phosphate strengthens it, increasing the degree of saving the minerals in the teeth and accelerating the mineralisation process. This provides strong protection from decay for the teeth.
The proprietary formulation of natural sweeteners, menthol and peppermint gives MEDIBLANC STRONG BLACK a refreshing and energising taste. You can enjoy extra fresh breath for a long time after cleaning your teeth! The ingredients in STRONG BLACK make it suitable for everyday use and as a complementary treatment to other MEDIBLANC toothpastes.
Effects:
Active charcoal and micronised dental silicas naturally whiten teeth
Cleans hard-to-reach places
Natural ingredients take care of your mouth
Provides the feeling of perfectly cleaned teeth
Protects against plaque and tooth decay
Strong antimicrobial effects
Strengthens and protects tooth enamel
Eliminates unpleasant odours
Provides long-lasting fresh breath
Provides full protection for your mouth
Ingredients:
Activated charcoal has a porous structure and a large surface area, effectively removing substances causing discolouration of the teeth.
Dental silicas are unique particles 10 microns in size which can bind up to twice their own weight in impurities. They do not have sharp edges and are therefore very gentle on the enamel.
Aloe vera hydrates, regenerates and soothes the gums.
Calcium phosphate increases the efficiency of mineralisation, speeds it up and strengthens the tooth enamel.
The proprietary formulation of natural sweeteners, menthol and peppermint provides long-lasting fresh breath.
Use:
Brush your teeth at least twice a day using a pea-sized amount of toothpaste.

About the brand

MEDIBLANC
MEDIBLANC | The unique MEDIBLANC dental hygiene products combine revolutionary technology with exceptional results. Only MEDIBLANC contains all the known natural active ingredients as well as systems of cleansing and protection to create a singular, effective line of products.
MEDIBLANC offers solutions for teeth whitening, sensitive teeth, and bleeding gums (periodontitis). Thanks to the unique combination of ingredients and a special 3-step system, MEDIBLANC always treats the problem rather than the symptoms.
MEDIBLANC products are especially gentle and suitable for long-term use, because they don't contain any irritants or otherwise harmful ingredients.

The MEDIBLANC products do not contain:
peroxides
fluorides
irritant preservatives
synthetic sweeteners
parabens
free of SLS/SLES