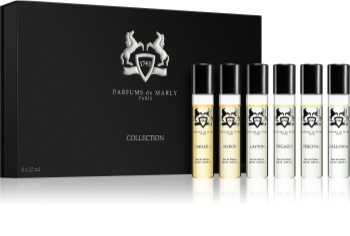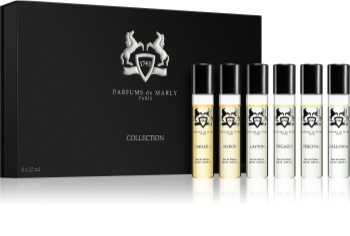 Code:

PDM00628
|
This item is currently unavailable
Carlisle Eau de Parfum for Men 10 ml + Herod Eau de Parfum for Men 10 ml + Layton Eau de Parfum for Men 10 ml + Pegasus Eau de Parfum for Men 10 ml + Percival Eau de Parfum for Men 10 ml + Galloway Eau de Parfum for Men 10 ml
Description

About the brand

Review
Description

Parfums De Marly Masculine Discovery Set

Ingredients
Not sure which fragrance is best for you? Parfums De Marly Masculine Discovery Set fragrance set for men contains the miniatures of several fragrances which allow you to smell a little different every day. Know which one you want to start with?
Characteristics:
contains fragrance miniatures
unique opportunity to test multiple fragrances by a popular brand
luxury fragrance for connoisseurs
a treat for any man
The set contains:
Carlisle Eau de Parfum for Men 10 ml
Herod Eau de Parfum for Men 10 ml
Layton Eau de Parfum for Men 10 ml
Pegasus Eau de Parfum for Men 10 ml
Percival Eau de Parfum for Men 10 ml
Galloway Eau de Parfum for Men 10 ml
About the brand

Parfums De Marly
Luxury niche fragrances by Parfums de Marly are inspired by the times of Louis XV. whose passion for enchanting scents was well known. He especially loved extravagant and intense fragrances full of rich notes. Each day he requested his bedroom to be scented with a different perfume. Even the water in his garden fountains had a lovely scent.
Parfums de Marly revive the spirit of opulent balls and festivities that took place at the Château de Marly for the amusement of the royal court and foreign dignitaries. Apart from the old craft of perfumery, Parfums de Marly also pays homage to the tradition of horse racing. After all, the races were another of Louis XV.'s favourite pastimes. Each fragrance is a tribute to the character of one of the horse breeds that were popular at the French court. That's why you find names like Parfums de Marly Herod, Oajan, or Pegasus in brand's line.
Each Parfums de Marly fragrance carries a piece of French history. Immerse yourself in the rich essences made from the finest ingredients known since the golden age of perfumery in the 18th century.
Review

Parfums De Marly Masculine Discovery Set