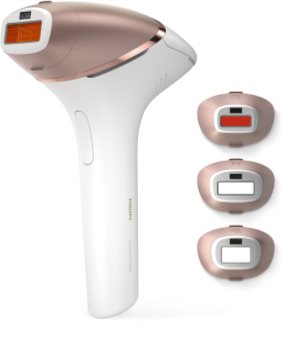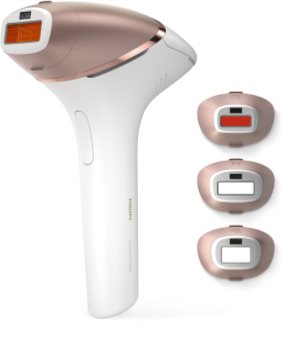 Code:

PHI1396
|
1 available
The Europlug is not compatible with UK sockets.
Product description

Philips Lumea Prestige BRI956/00
Philips Lumea Prestige IPL - Hair removal device BRI956/00
With unique curved attachments 
Underarms, bikini area, body, face
With SmartSkin sensor
Both cordless and corded use 
Experience hair-free smoothness for up to 8 weeks* 
Unique attachments designed for optimal results 
The world's first IPL with unique curved attachments is designed for optimal results all over. Philips Lumea Prestige is also the most effective IPL solution offering cordless and corded use and a SmartSkin sensor. 
Continuously smooth skin with Lumea IPL technology 
Derived from professional IPL, developed with dermatologists
Proven effectiveness
Suitable for a wide variety of hair and skin types
Both cordless and corded functionality 
Specialised treatment of different body areas 
Uniquely curved attachments for different body areas
Underarm attachment: medium size, curved-out design for underarm
Bikini attachment: curved with transparent filter for bikini area
Body attachment with large, curved-in design for large areas
Face attachment with precise design and extra face filter 
Maximum freedom, minimum hassle 
With SmartSkin sensor
No replacement parts, no hidden costs 
IPL - Hair removal device With unique curved attachments Underarms, bikini area, body, face, With SmartSkin sensor, Both cordless and corded use
Highlights 
Lumea prevents hair regrowth**
Philips Lumea uses an innovative light-based technology called Intense Pulsed Light (IPL) to break the cycle of hair regrowth. Gentle pulses of light are applied at the root and, after several treatments, hair is prevented from growing back. IPL technology has been available in specialist salons since 1997. Philips Lumea, derived from this professional IPL technology, makes it possible for you to treat hair easily and effectively at home. Philips Lumea Prestige is the culmination of 14 years of research and development in collaboration with leading dermatologists.
Proven effectiveness
Objective studies show significant hair reduction after as few as 3 to 4 bi-weekly treatments, resulting in smooth, hair-free skin. To maintain results, touch up every 4 to 8 weeks. - To enlarge this picture, please click on the image in the image gallery at the top of this page.
Suitable hair and skin types
Philips Lumea Prestige works effectively, easily and safely on a wide variety of hair and skin types. It works on naturally dark blonde, brown and black hair and on skin tones from very white to dark brown. As with other IPL-based treatments, Philips Lumea cannot be used to treat white/grey, light blonde or red hair and is not suitable for very dark skin. This is due to the high contrast required between the pigment in the hair colour and the pigment in the skin tone.
Treatment of body areas
Inspired by the uniqueness of each body area, Philips Lumea Prestige is the only IPL device to offer uniquely curved attachments designed for optimal results on different body areas. Attachments differ by combinations of shape, window size and filter. This Philips Lumea Prestige offers specialised treatment on the body (legs, arms, stomach), face (upper lip, chin), bikini area and underarms.
Underarm attachment
It comes in a specially curved design to treat hard-to-reach underarm hair - 3 cm2 window size. 86% of women satisfied with hair reduction on underarms.***
Bikini attachment
It is specially designed for effective treatment of bikini hair. It is curved and has an extra transparent filter. Hair in this area tends to be stronger and thicker than leg hair - 3 cm2 window size. 78% of women satisfied with hair reduction in bikini area.***
Body attachment
Large, curved-in design to follow body contours thus effectively covering areas like the legs, arms and stomach. Also enables fast treatment on large body areas thanks to the largest treatment window (4.1 cm2 window size). 83% of women satisfied with hair reduction on legs.***
Philips Green Logo
Philips Green Products can reduce costs, energy consumption and CO2 emissions. How? They offer a significant environmental improvement in one or more of the Philips Green Focal Areas — Energy efficiency, Packaging, Hazardous substances, Weight, Recycling and disposal and Lifetime reliability. 
Specifications 
Application areas 
Body areas: Arms, Legs, Stomach
Face areas: Chin, Upper lip, Jawline
Sensitive areas: Underarms, Bikini 
Technical specs. attachments 
Body treatment attachment: Shape: Convex curved, Window size: 4.1 cm2
Face treatment attachment: Shape: Flat, Window size: 2 cm2, extra filter
Underarm treatment attachment: Shape: Concave curved, Window size: 3 cm2
Bikini treatment attachment: Shape: Concave curved, Window size: 3 cm2, extra filter 
Application mode 
Slide and Flash: For quick application
Stamp and Flash: For treatment on small areas
Corded / cordless use: Both cordless and corded use
Safety and adjustable settings
Integrated UV filter: Protects skin from UV light
5 light energy settings: Adjustable to your skin type 
Integrated safety system: Prevent unintentional flashing
Skin Tone sensor: Detects your skin tone
SmartSkin sensor: The right setting on demand
Application time 
Lower legs: 8.5 min
Underarm: 2.5 min
Bikini line: 2 min
Face areas: 1.5 min 
Technical specifications 
High performance lamp: Delivers > 250 000 flashes 
Power 
Items included 
Instructions for use: User manual
Storage: Luxurious pouch
Adapter: 19.5 V / 4000 mA 
Service 
Warranty: 2 years global warranty 
Characteristics
Type of power supply

rechargeable/ mains
Philips has been a household name for more than a century, more precisely for over 120 years. During this time, Philips earned a name for itself as the go-to brand for electric appliances, including tools designed for personal care.
Philips & Co. was founded in 1891 in Eindhoven, Netherlands, at first aiming to produce light bulbs, growing in demand with the electrification of households.
After some time, the company began to grow and create products for other uses. These days, Philips is one of the most respected brands for their medical electronics or energy-saving light bulbs, but also for their shavers, trimmers and electric toothbrushes. Over the years, Philips has come up with many new technologies and innovations, keeping in mind that the products must always be comfortable to use and pleasant to look at. While reflecting the latest research and trends, the Philips products are simple and accessible enough for an easy use at home.
Beautyspin carries many Philips personal care products from hair dryers to beard trimmers. We also have Philips Sonicare electric toothbrushes featuring a patented sonic technology that will make your daily dental hygiene even more effective.
Philips is a synonym of traditional and time-tested values combined with innovation and progress. As one of the most reliable brands on the market, it will make your everyday life considerably easier while still keeping up with the latest trends.
Review

Philips Lumea Prestige BRI956/00