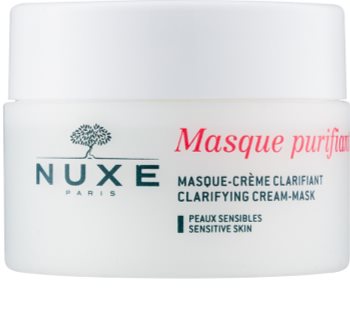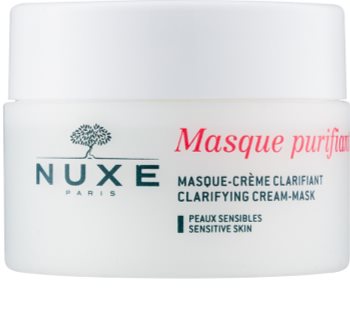 Product description

Nuxe Cleansers and Make-up Removers
Description:
This gentle Nuxe Cleansing Mask brightens and deeply cleanses your skin. It stimulates the immune system of sensitive skin and helps start natural cleansing processes. It promotes smooth, soft and tightened skin. This creamy mask s'tightens pores, soothes and provides relief.
Your skin will be thoroughly and deeply treated, cleansed and refined with Nuxe Cleansing Mask. The velvet mask takes care of perfect illumination and reinforcement of the skin.
Your skin will gain a fresh and radiant colour after just one application!
Effects:
• instantly soothes the skin
• reinforces the skin's defense mechanisms
• deeply cleanses
• tightens pores
• imparts a fresh and bright appearance
Ingredients:
• Rosemary water – thoroughly cleanses the skin
• Rice powder, Kaolin – absorb excess sebum, mattify the skin, help tighten pores
• Damascena Rose petal floral water, Allantoin – soften and soothe the skin
Skin type:
Ideal for all skin types, even sensitive.
How to use:
Apply generously all over face and neck. Leave on for 5 to 10 minutes, rinse with warm water.
Use once or twice a week for sensitive combination to oily skin. Use once a week for sensitive dry to very dry skin.
Nuxe cosmetics combine the power of nature, the effectiveness of science and the pleasure of the senses for the maximum enjoyment when using them. This is reflected in the brand's name, which came about by combining the words 'nature' and 'luxury', and in every Nuxe product. Nuxe cosmetics contain no parabens or mineral oils.
The Nuxe brand has been developing gradually since the beginning of the 1950s. It only really came to life in 1989, however, thanks to Aliza Jabès, a fan of aromatherapy and later the founder of the Nuxe Spa concept. The first product she designed, the Nuxe Huile Prodigieuse® dry oil, was hugely successful straight away and is now an iconic product.
Nuxe is actively engaged in research and all its products are developed using original methods based on knowledge of modern botany. Today Nuxe oil is just one of a comprehensive range of face and body care products, and Nuxe perfume is inspired by the very scent of the legendary dry oil.

Review

Nuxe Cleansers and Make-up Removers
This product has not yet been rated, be the first!