Lalique
Pour Homme Equus
Eau de Parfum for Men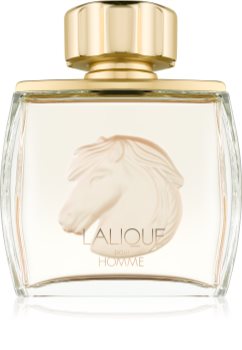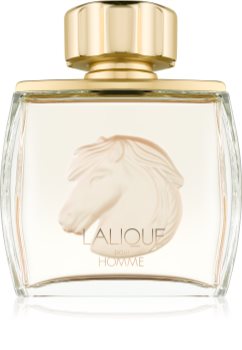 UPS Air Mail
tomorrow
Friday 10/25/2019
Fragrance description

Lalique Pour Homme Equus
Lalique Pour Homme Equus is a luxury perfume for men with elements of the exotic Orient launched in 2001. A every elegant, captivating and special composition mainly mature and unique men can appreciate. This excellent fragrance by Lalique captures your attention by its pleasant and unconventional aroma dominated by citrus tones, distinctive spices, and intoxicating herbs. Its manly aspects are provided by a chord of wood and leather. Try Pour Homme Equus you can wear for the whole year and you will never get bored of!
Lalique Pour Homme Equus will draw your attention not only by its original aroma, but also by its luxury and quality packaging. Its massive glass with an engraved horse head and a big metal lid show the best quality. Please yourself or somebody close to you and order this perfume suitable only for stylish men!
With its first tones a refreshing power of nature breathes at you. Feel the distinctive scent of bergamot and special bitterness of lemon in combination with delicate rose peppercorn. Then a typically manly aroma of wood, sweetish juniper, cardamon, fine leaves of violet, and spicy nutmeg develops. This harmonious combination is unique thanks to nutmeg and its typical scent. Intensive notes of benzoin and vetiver towards the end are made just perfect by smooth leather, sensual musk, and wood. Lalique eau de parfum has excellent long-lasting effects.
Lalique is a producer of luxury perfumes which dates back a long time and has been preparing new fragrances for you every year. The Lalique perfumes are extremely popular all over the world, which is absolutely no wonder, as they are perfectly balanced for both men and women and the beautiful design of their flacons shows good quality and luxury and makes this brand very famous. If you haven't purchased any of the big number of Lalique perfumes yet, you should do it now.
Select for example renowned elegance Lalique Pour Homme Equus! It's an uncommon fragrance with elements of citrus freshness, sophisticated spices and flowers, and an amazing distinctive ending. Pour Homme Equus is a perfume designed for those who are as original and interesting!
Ingredients
Bergamot, Cardamom, Juniper Berries, Lemon Peel

Mace, Sequoia, Violet Leaves

Amyris, Benzoin, Leather, Musk, Vetiver

Fragrance category

oriental, spicy
The name Lalique evokes the beauty of fine jewellery and the translucent shine of crystals. The company takes its name after the artistic genius and master jeweller and glassmaker René-Jules Lalique who poured all his creative enthusiasm into the brand.
Lalique opened his jewellery and glassware shop in 1905. His art deco and art nouveau creations often incorporated natural elements and inspirations both in terms of materials and shapes. The perfumer François Coty was so impressed by his work he proposed a collaboration which resulted in the production of gorgeous perfume bottles.
Lalique has always been connected with the world of fragrance, even though they only introduced their first own perfume in 1992. All the Lalique fragrances are now characteristic for their unique bottles and the exquisite quality of ingredients as well as the aroma itself.
Review

Lalique Pour Homme Equus
Display ratings by properties