MEDIBLANC
Healthy Gums
Gum Protection Toothpaste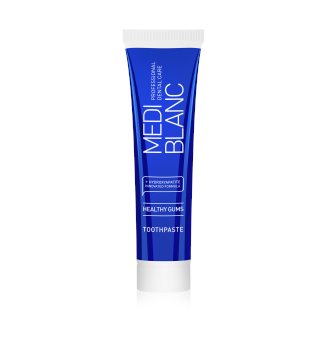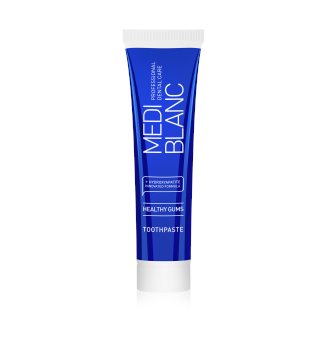 Recommended retail price
£
11.60
You save 14%
---
Code:

MEB03243
|
In stock
Product description

Articles

About the brand
Product description

MEDIBLANC Healthy Gums
Don't overlook the specific needs of your teeth. MEDIBLANC Healthy Gums toothpaste offers comprehensive care with special regard to sensitive gums, periodontitis and increased bleeding. To achieve this, the product uses an extract from willow bark with clinically proven effects.
MEDIBLANC Healthy Gums toothpaste and its unique ingredients effectively prevent the occurrence of tooth decay and its biologically active substances significantly improve the overall condition of your mouth. The longer you use this toothpaste, the more you'll notice the effects it offers. That said, you can start enjoying the wonderful feeling of clean teeth right away.
Key benefits of the MEDIBLANC Healthy Gums toothpaste:
restores tooth enamel, heals micro cracks and protects from tooth decay
its ingredients positively affect gums prone to periodontitis
removes stains and yellow tint from teeth, restores their whiteness
effectively heals root canals
restores structure of the tooth on the surface as well as on the inside and reduces sensitivity
doesn't cause dryness, improves the self-regenerating ability of your gums
gentle to your mouth and sensitive teeth thanks to low foaming effect and abrasiveness
prevents plaque deposits and helps loosen existing ones
suitable for use with all types of toothbrushes
(standard manual, electric and sonic)
professional tooth care for adults and children from 6 years of age
Active ingredients:
hydroxyapatite – 100% natural material which is naturally found in teeth, releases biologically active ions of calcium and phosphates to improve the condition, appearance and resilience of your teeth and speed up the process of remineralisation
willow bark extract – clinically proven positive effects on the condition of gums prone to sensitivity, periodontitis and increased bleeding; can give the toothpaste a slight brown tint
chlorhexidine digluconate – fights plaque bacteria
allantoin – accelerates gum regeneration
sodium PCA – keeps your gums better hydrated
unique formula with high content of natural ingredients
without added peroxide, fluoride, and coarse abrasives
How to use:
Apply a small amount of the toothpaste to the toothbrush and brush your teeth thoroughly for 2 to 3 minutes at least twice a day. Afterwards, rinse your mouth with clean water to remove toothpaste residue and the loose plaque.
We recommend using the MEDIBLANC toothpaste for a longer period of time to see maximum effects on the appearance and condition of your teeth and gums.
Dentist's tip:
Always choose the right type of toothpaste for your teeth. For maximum effect, your tooth care ritual should also include a suitable mouthwash or mouth spray for fresh breath.
Articles about

MEDIBLANC Healthy Gums

Articles
About the brand

MEDIBLANC
MEDIBLANC | The unique MEDIBLANC dental hygiene products combine revolutionary technology with exceptional results. Only MEDIBLANC contains all the known natural active ingredients as well as systems of cleansing and protection to create a singular, effective line of products.
MEDIBLANC offers solutions for teeth whitening, sensitive teeth, and bleeding gums (periodontitis). Thanks to the unique combination of ingredients and a special 3-step system, MEDIBLANC always treats the problem rather than the symptoms.
MEDIBLANC products are especially gentle and suitable for long-term use, because they don't contain any irritants or otherwise harmful ingredients.

The MEDIBLANC products do not contain:
peroxides
fluorides
irritant preservatives
synthetic sweeteners
parabens
free of SLS/SLES

Review

MEDIBLANC Healthy Gums

2