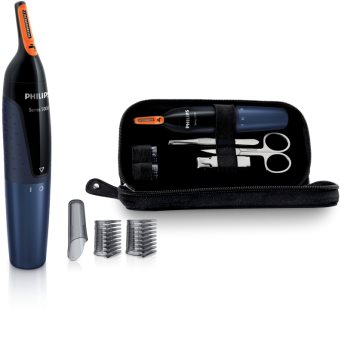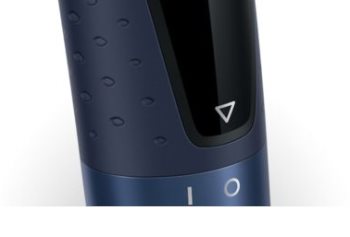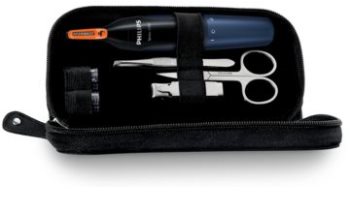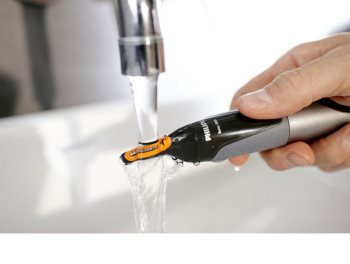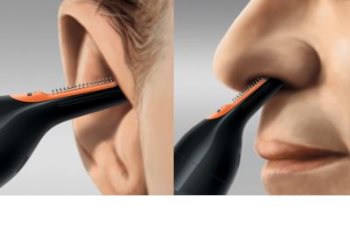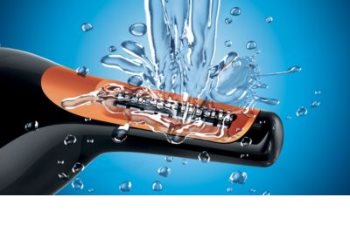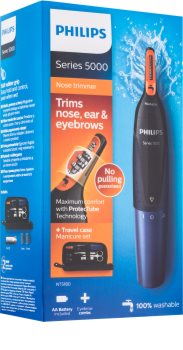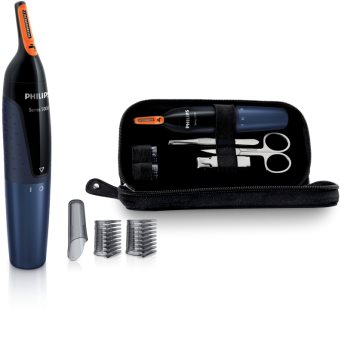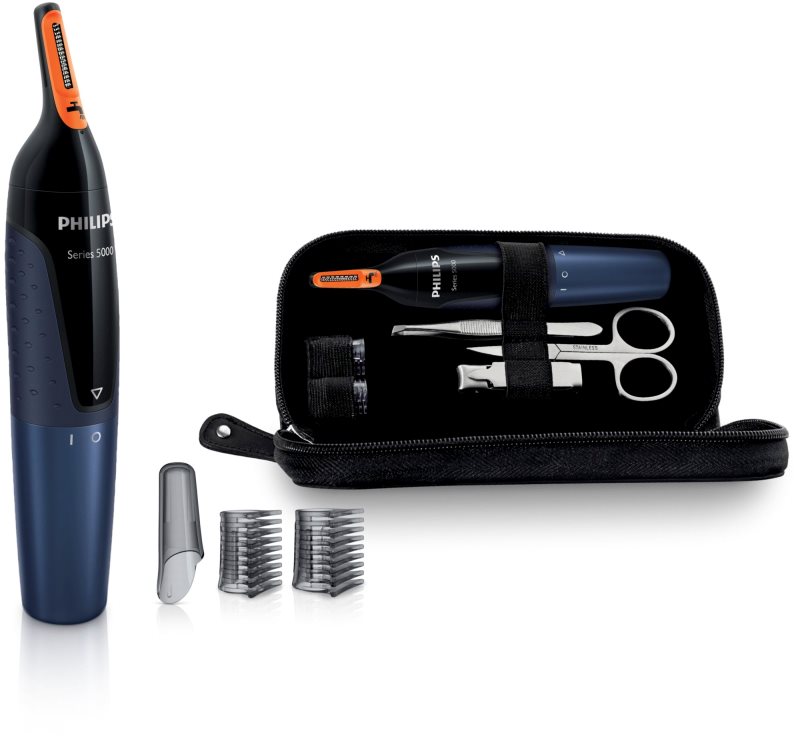 Code:

PHI0849
|
Over 20 pcs in stock
Product description

Philips Nose Trimmer NT5180/15
Easy travel kit for perfect final touch
Easy and safe trim of nose, ear & eyebrow hair
The Philips NOSETRIMMER Series 5000 including manicure set gently removes unwanted nose, ear, eyerbow hairs and clip nails. The ProtecTube technology ensure a powerful, easy and comfortable trim of hair with no pulling guaranteed.
Fast & comfortable trim of nose & ears
Advanced guard system prevents pulling, nicks & cuts
Easily reach hair inside the ear or nose
Ultra precise & sharp cutting slots
Easy to clean
Easy to use
Travel case for easy storage
Easy hold and control, even when wet
2 combs to tidy up eyebrows
Built to last
The blades never need to be oiled
2-year guarantee
Highlights
Comfortable nose trimmer & manicure set with ProtecTube technology
No pulling guaranteed Guard system, ideal angle, Fully washable, AA battery, 2 combs, manicure set, case
ProtecTube technology
With the revolutionary ProtecTube technology, the cutter is protected by an ultra-thin foil guard with rounded tips to preventb skin irritations. In addition, the cutter is designed to prevent hair from getting caught between two separately moving cutting blades, for guaranteed no pulling.
Ideal angle
The Philips nose trimmer has been engineered so that it is perfectly angled to easily reach hair inside the ear, nose as well as for use on eyebrows. With the Philips nose trimmer, you can be sure that all unwanted hairs will be removed efficiently.
Powerful cutting system
Both cutter and guard have ultra precise and sharp cutting slots to ensure all hairs are quickly and effectively cut.
Water resistant
The trimmer and the combs are easy to clean under the tap and can be used in the shower.
Travel case & manicure set
Travel case includes nose trimmer, 2 eyebrow combs, protective cap, AA battery, scissors, tweezers and nail clipper for a perfect final touch.
Soft rubber grip
The soft-touch rubber grip gives you the best hold, even when wet, for better control when operating your trimmer.
2 eyebrow combs
Use the 3 or 5mm eyebrow combs to trim or tidy up hair to a uniform length.
No oil needed, ever
No need to oil ever, for easy maintenance.
2-year worldwide guarantee
All of our grooming products are built to last. The trimmer comes with a 2-year guarantee and is compatible with voltages worldwide.
Specifications
Comfortable nose trimmer & manicure set with ProtecTube technology
No pulling guaranteed Guard system, ideal angle, Fully washable, AA battery, 2 combs, manicure set, case
Cutting system
Cutter width nose trimmer: 21mm (13/16")
Cutting element: Stainless steel blades
Number of length settings: 3
2 eyebrow combs: 3 and 5mm (1/8" and 3/16")
Accessories
Travel kit: Nail cutter, Scissors, Tweezers
Maintenance: Protective cap
Ease of use
Maintenance free: No oil needed
Cleaning: Fully washable
Design
Color: Black and dark blue
Finishing: Silver lacquer and rubber
Power
Service
2-year worldwide guarantee
About the brand

Philips
Philips has been a household name for more than a century, more precisely for over 120 years. During this time, Philips earned a name for itself as the go-to brand for electric appliances, including tools designed for personal care.
Philips & Co. was founded in 1891 in Eindhoven, Netherlands, at first aiming to produce light bulbs, growing in demand with the electrification of households.
After some time, the company began to grow and create products for other uses. These days, Philips is one of the most respected brands for their medical electronics or energy-saving light bulbs, but also for their shavers, trimmers and electric toothbrushes. Over the years, Philips has come up with many new technologies and innovations, keeping in mind that the products must always be comfortable to use and pleasant to look at. While reflecting the latest research and trends, the Philips products are simple and accessible enough for an easy use at home.
Beautyspin carries many Philips personal care products from hair dryers to beard trimmers. We also have Philips Sonicare electric toothbrushes featuring a patented sonic technology that will make your daily dental hygiene even more effective.
Philips is a synonym of traditional and time-tested values combined with innovation and progress. As one of the most reliable brands on the market, it will make your everyday life considerably easier while still keeping up with the latest trends.