Scholl
Fungal Nail
Anti-Fungal Foot Treatment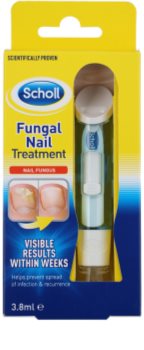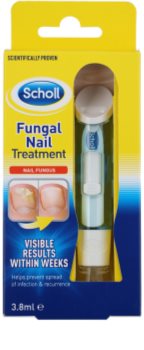 Description

About the brand
Description

Scholl Fungal Nail

Characteristics
Say good-bye to unpleasant nail fungus. The Scholl Fungal Nail two-phase nail fungus treatment is a simple system to take care of nails affected by fungus. Nail fungus can manifest with a yellow or brown colour, white spots, or an uneven surface of the nail.
The special liquid penetrates your nail directly to target the source of the problem. The first phase of the treatment eliminates the fungus, and the second phase promotes healthy nail growth. Try this clinically proven treatment for an easy use at home and get rid of nail fungus once and for all.
Characteristics:
comprehensive treatment in one kit
effectively eliminates signs of nail fungus
helps prevent the fungus from reappearing
includes a nail file to remove the affected parts of the nail
easy to use
How to use:
For the first step, apply the liquid to the nail for 4 weeks. Then switch to one application a week, until a new healthy nail grows out. If you're using the product correctly, you should see results in 2 to 4 weeks. Read the instructions before using the product.
The experts at Scholl know very well that healthy and happy feet make every day better. The brand has more than a hundred years worth of experience and Scholl products help people all around the world to solve problems with their feet. Trust Scholl and your feet will be well taken care of!
The history of Scholl begins in 1904 when the company's founder, Dr William Mathias Scholl, designed his first patented insole that quickly revolutionised the way people perceived the standard level of comfort in wearing shoes. Other groundbreaking products followed soon after, most popular among them being the anatomically shaped sandals which met with great international success.
Today, Scholl produces not only footwear with great arch support, but also products for foot care and shoe maintenance. Customers love Scholl foot creams and deodorants as well as files or gel pads that make any shoe instantly much more comfortable.
Review

Scholl Fungal Nail

1