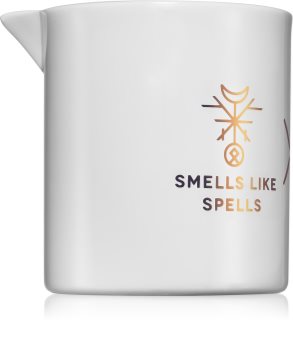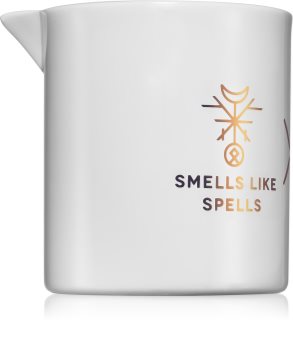 In stock
|
Code:

SML02028
Try this massage ritual that will positively affect your body as well as your life. The Smells Like Spells massage oil candle uses the power of aromatherapy, natural skin care, and magic.
Give your home a lovely, cosy vibe. Light a candle, enjoy the enchanting aroma, and then use the melted oil to perform a short meditative massage and attract whatever you desire most in your life.
Characteristics:
provides a feeling of harmony and relaxation
softens and smooths the skin
provides an optimal amount of hydration
enhances your skin's natural protective function
the packaging includes instructions for a meditation/affirmation ritual
Magical and spiritual power of the candle:
brings wealth, happiness, and love into your life
helps you clean your energy field
creates an energy protection around you
Ingredients of the candle:
mango butter – softens skin, promotes regeneration
green tea – acts as a natural antioxidant
sweet almonds – nourish and soften the skin
apricot oil – promotes skin renewal and smoothness
borage oil – hydrates and softens
vanilla essential oil – ensures nourishment and regeneration
vitamin E – provides hydration and protection from free radicals
Aroma of the candle:
patchouli – promotes resolve and confidence, enhances sensuality
grapefruit – increases optimism, opens your heart
orange blossom – improves your mood, removes stress
vanilla – provides a feeling of security, increases attraction
amber – acts as an aphrodisiac
Materials:
natural soy wax
cotton wick
doesn't release toxins when lit up
How to use:
Light the massage candle and let it burn for 20 to 30 minutes until it releases the amount of oil you want, then snuff the candle out and wait for the oil to cool down. Pour a small amount of the oil into your palms and gently massage into your skin until it's absorbed. You can also pour cold oil on your skin straight from the candle. To enhance the magical effects of the candle, add a short meditation/affirmation ritual depending on the current phase of the Moon, as described in the instructions provided.
Notino tip:
To avoid an unwanted dip from forming in the candle, it is best to always let it burn at least until the entire surface melts.
Ingredients
| | |
| --- | --- |
| Composition | Grapefruit, Orange Blossom, Vanilla, Amber, Patchouli |
| Consistency | oil |
| Skin type | all skin types |
| Type of oil | oil fusion |
| Character of home fragrance | floral, fruity |
| Active ingredients | vitamin E, Almond Oil |
| Type of Wick | cotton |
| Number of Wicks | 1 |
| Type of Wax | vegetable |
| Material | glass |
Let some magic into your life! Smells Like Spells are unique, hand-made scented candles and aroma diffusers which combine folk wisdom with the newest technologies and approaches of modern perfumery.
This Lithuanian brand takes care to make their product look cute and elegant, which is one of the reasons why Smells Like Spells candles and diffusers are made from purely natural materials such as wood, linen, and soy wax. These products always smell unique and fantastic, their scents created based on traditional aromatherapy and using the positive effects of herbs and spices. With their magical character, Smells Like Spells products bring a bit of enchantment into your daily life.
All Smells Like Spells candles and aroma diffusers are named after characters from Norse mythology which is traditionally connected with unique spiritual power and can help you to get what's missing from your life – because magic is real.