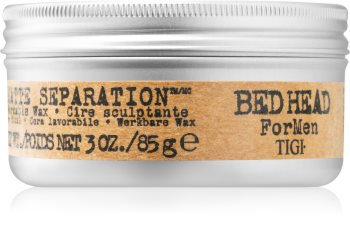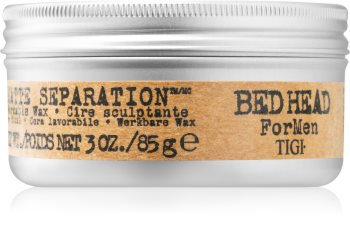 Description

Articles

About the brand

Review
Description

TIGI Bed Head B for Men Matte Separation

Characteristics
Give your hair the desired shape and a natural matte look. The TIGI Bed Head B for Men styling wax sets your hairstyle for the whole day. Don't curb your creativity – express your style with ease, precision, and always with a perfect finish.
Properties:
medium hold
gives hair a matte finish
protects hairstyle against moisture
hair stays hydrated after use
with a fresh scent
Ingredients:
beeswax – sets the hairstyle while keeping the hair looking natural
How to apply:
Spread a small amount of the wax between your palms and then rub in to towel-dried or dry hair. Style the hair as desired using your fingertips.
Articles about

TIGI Bed Head B for Men Matte Separation

Articles
TIGI cosmetics | TIGI was founded in 1986 by the four Mascolo brothers – sons of the famous Italian hair stylist Franco Mascolo, whose regular customers included the legendary actresses Sophia Loren and Gina Lollobrigida. Toni, Guy, Bruno, and Anthony followed in their father's footsteps, essentially building the prestigious network of Toni & Guy salons from scratch. They now have over 420 branches in 42 countries worldwide.
The uniqueness of TIGI products lies mainly in their being designed by professional hair stylists for the needs of other professional hair stylists. The fact that the TIGI Creative Team thinks up a new collection of hairstyles every year, designed exclusively to promote three key lines of this exclusive brand – Bed Head, S-Factor, and Catwalk – is also related to this.
The latter represents an imaginary bridge linking the worlds of beautiful hair and high fashion. It mainly consisted of collaboration with the young British designer Christopher Kane, moving Catwalk to a further, higher level. Thanks to this, hair stylists can now satisfy even the most demanding of clients, who want to look like film or music stars. Intriguingly, the scent of TIGI Catwalk cosmetics is inspired by exclusive perfumes.
In the manufacture of TIGI shampoos, conditioners, modelling pastes, and other products rather unconventional ingredients are often used. For instance, the authors of the Catwalk Curlesque collection created Catwalk Aquacomplex, based on the findings of modern biology, a unique cocktail of cucumber water and extracts of various types of algae, seaweed, and sea fennel. It soon became a hit amongst women with wavy and curly hair. Luxury ingredients such as cashmere, champagne, and pearls, included in the S-Factor products, also deserve a special mention.
TIGI is sure to appeal to anyone who wants to look great, but does not want to spend their free hours in beauty salons, who is looking for first-class quality at reasonable prices, who is playful, enjoys creative hairstyles, and chooses things mainly visually (because of the design and colour of the packaging).

Review

TIGI Bed Head B for Men Matte Separation