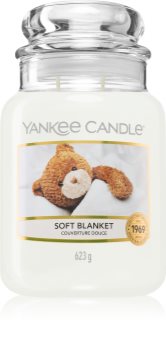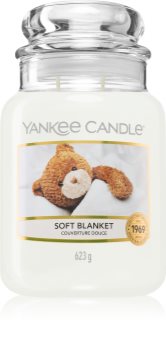 Recommended retail price
£
26.40
You save 21%
---
Yankee Candle Soft Blanket scented candle will make you feel as if you've just wrapped yourself in a comfy blanket, filling the room with a delicate fragrance that will caress your senses. Create a lovely atmosphere that helps you feel even more comfortable in your home.
Characteristics:
a candle with a subtle, delicate, soothing fragrance
fills your home with fragrance and creates a cosy atmosphere
in an iconic glass container characteristic for Yankee Candle products
its stylish design makes it a great home accessory
Composition of the fragrance:
First, your senses will be delighted by the aroma of bergamot, blackberry and citrus, closely followed by gourmand vanilla, tobacco flower and rose. The base notes include amber, delicious cocoa and musk.
Material:
wick made of 100% natural fibres
premium paraffin wax
glass container
Important caution:
Place the product on a sufficiently heat-resistant surface. Trim the wick if it's longer than 5mm. Make sure that the candle/wax is far enough from any flammable materials and heat sources (TV, radiators). Do not move the burning candle/wax. Keep away from children and pets. Use carefully around people with oversensitivity to fragrance.
Use:
Never leave a burning candle unattended in the proximity of easily flammable objects. Keep at least 20cm of free space between burning candles. Don't let the candle burn for more than 4 hours at a time. If the candle is burning, do not tip it. Don't let the flame touch the sides of the glass. If the candle is shorter than 1cm, snuff it out and never let it burn down to the base. Put the candle out with a gentle blow.
Ingredients
| | |
| --- | --- |
| Top notes | Bergamot, Citrus Fruit, Blackberry |
| Middle notes | Rose, Vanilla, Tobacco Blossom, Powder |
| Base notes | Amber, Musk, Cocoa |
| Character of home fragrance | clean |
| Type of Wick | cotton |
| Number of Wicks | 1 |
| Type of Wax | other |
| Material | glass |
The idea for Yankee Candle came about back in 1969 when Mike Kittredge gave his mother a handmade candle for Christmas. She loved it, as did everyone she knew, so Mike continued to make candles. Thanks to his huge success, he soon moved production from his garage to an old paper mill, thus founding his own brand, Yankee Candle.
From the moment you light it until it is burnt out, the Yankee Candle provides a wonderful, lasting, pure scent which is the perfect complement to any interior. The candles contain a high amount of aromatic oils and natural extracts. Each fragrant essence is true to the ingredient, place or experience it is inspired by. The atmosphere it evokes in your home – relaxing, festive or refreshing – only depends on which one you choose.
Everyone will love a gift from this range, with the Yankee Candle Christmas special editions being a hit, as will be the Yankee Candle wax melts, a Yankee Candle Gift Set or a Yankee Candle Car Freshener.
Today the brand is the best-known manufacturer of scented candles and home fragrances. You can find them in 20 countries all over the world and the USA alone has over 18,000 shops. And to think it all began with one little present for mummy...