Maskne: Get Rid of Acne under Your Mask
Moisture, heat, lack of air and unpleasant skin irritation... areas covered with a mask are a breeding ground for various skin issues. While masks have slowly become the symbol of our time, they're closely followed by maskne – acne caused by wearing a mask. So how should you deal with it and prevent it from occurring?
What Is Maskne and What Causes It
Maskne is a skin condition caused by wearing mouth and nose protection (a mask or a respirator) for an extended period of time. Its most common type is the so-called acne mechanica – mechanical acne.
A combination of mechanical friction, heat, poor access of air, and moisture created by sweat, breathing and speaking, forms an ideal environment for clogged pores and the breeding of microorganisms. Small fissures caused by the mask rubbing against our face facilitates the penetration of impurities and bacteria into our skin. Our pores get clogged and our skin develops various forms of acne – from minor spots and blackheads to more severe cystic acne.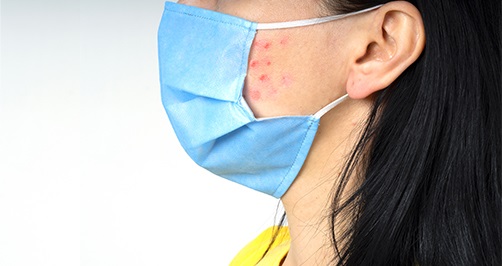 The best approach is to prevent the problem in the first place. Follow the instructions for correct mask-wearing and reduce the risk of maskne to a minimum:
Wear your mask only when it's actually necessary. If you're outside in the fresh air and not in proximity of other people, you can take your mask off and let your skin breathe.
Prevent the breeding of bacteria under your mask by changing your mask regularly – even several times a day. Paper mask gets moist after approximately 20 minutes of wearing, and then it's time to put on a new one. If you have the option, let your skin breathe for a moment before putting on your new mask.
If you're wearing a cloth mask, wash it or boil it clean and then iron it after every use. It's better to use gentle washing detergents and avoid fabric softener which could irritate your skin and clog your pores.
A cloth mask should be made from a material that feels good – ideally from 100% cotton. It should fit perfectly without pressure or unnecessary chafing and irritation. Wash and iron every mask before you start using it.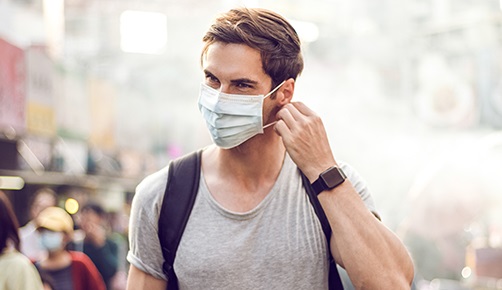 Have you already noticed some spots caused by your mask? Then it's time to replace your regular skin care with specialised products for maskne and come up with a new skin-care routine.
Skin Care while Wearing a Mask
Before you put your mask on in the morning, your skin should be perfectly clean and protected from friction. Make the following rules part of your routine:
Wash your skin with water and a special foam, emulsion or gel for acne. You can follow up with a gentle toner.
After cleansing your skin, apply a moisturising cream which forms a thin protective layer between your skin and the mask, thus reducing mechanical friction.
Find a non-comedogenic face cream with a delicate texture which doesn't clog pores or overburden your skin. Try a nice gel-cream or a light skin serum.
Trust products with antioxidants which protect the skin from negative external factors.
You should definitely avoid thick nourishing creams, vaseline, products that are too oily or ones that promote sebum production.
During the day you should also skip products with retinol and other potential irritants. Your mask causes an occlusion effect and enhances active ingredients, which might have a negative impact on your skin.
Apply your maskne cream at least 15 minutes before putting on your mask to give it time to absorb and prevent it from getting rubbed off.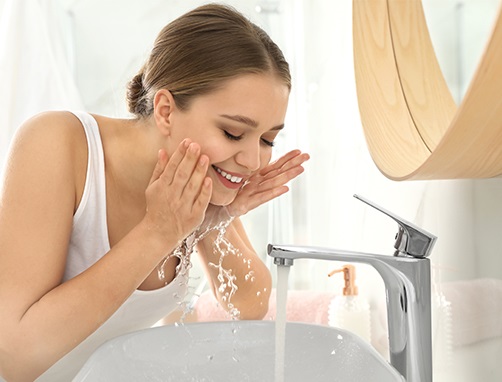 Night-time Routine against Maskne
In the evening, you should once again deep-cleanse your skin and use products for maskne which promote regeneration of your skin after the stress caused by a mask:
Cleanse your skin as soon as you come home. Over the course of the day it has accumulated sweat, sebum and impurities which you should remove immediately to prevent your pores from getting clogged.
Your night-time routine should include products for maskne with active ingredients for problem skin – such as benzoyl peroxide, salicylic acid and other AHA acids. However, be careful with their application, especially if your skin is severely irritated. In that case, go with a lower concentration or temporarily replace these products with milder, soothing and hydrating skin care.
To prevent irritation, avoid using multiple products with active ingredients for maskne at once. Intense spot treatment for acne should only be applied to individual spots, not all over your face. If you're used to products with retinol, alternate them with spot treatment and don't use them together.
At least once a week, treat your skin to a soothing face mask to offer some refreshing and invigorating care.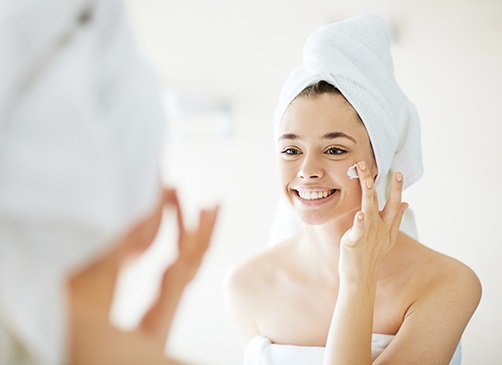 To help you achieve the best results, here are some more rules for getting rid of acne: Don't squeeze your spots, don't touch your face with dirty hands, drink enough liquids, follow a healthy diet and most importantly stay calm.
Under-mask Makeup and Maskne
Dermatologists don't recommend wearing makeup under your mask, as it can clog your pores and aggravate your maskne. Therefore, if you're wearing a mask, you should reduce the amount of makeup as much as possible. If you need to cover your maskne with makeup, remember that less is more and follow some basic rules which can minimise the negative impacts on your skin:
Always apply your makeup on clean and hydrated skin while allowing enough time before you put on your mask.
Wash your hands before doing your makeup. If you're using a makeup brush or sponge, wash them regularly.
Get a non-comedogenic foundation whose formula won't clog your pores. Ideally you should pick a foundation by one of the dermocosmetics brands, specially designed for problem skin and with a formula that takes care of your acne.
Set your makeup with a setting powder that will reduce the risk of smudging caused by your mask.
If you want to cover mild signs of maskne, all you need is a light BB cream which won't feel as heavy on your skin.
Remove your makeup as soon as you can to let your skin breathe again, and cleanse your skin thoroughly.